Pope questions Trump on immigration, Christianity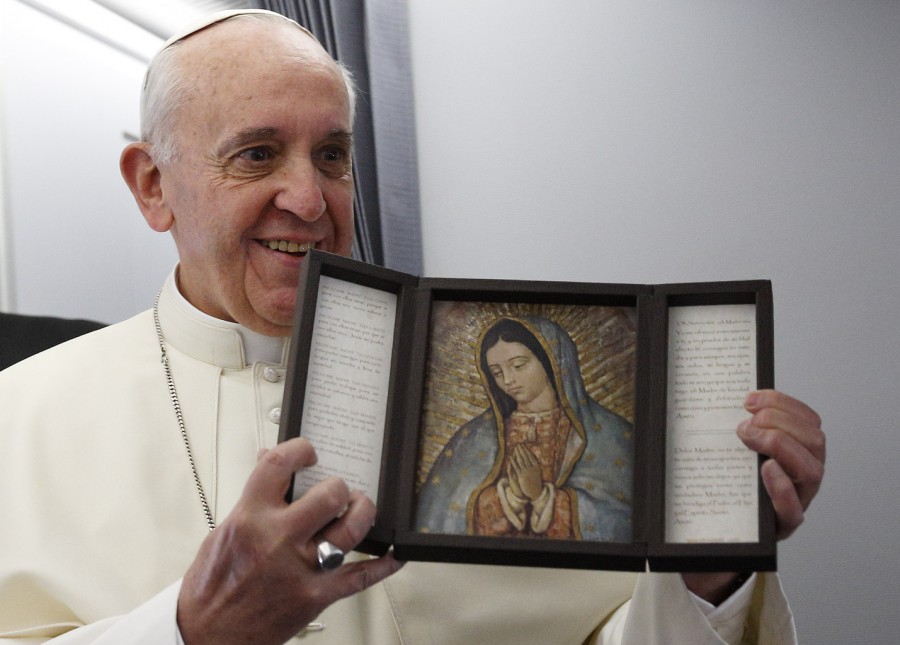 Madeline Mcfadden, Staff Writer
February 24, 2016
Pope Francis recently returned from his five-day trip to Mexico on February 17. During his time there, he held many large masses, including a mass in Ciudad Jaurez, a Mexican city very near to the United States border. He spent time there addressing immigration issues, saying that both the U.S. and Mexico are at fault and need to fix issues with immigration policy. He wrapped up his visit by thanking the Mexican people for being so receptive and kind during his visit.
During the flight back to Rome, he was asked about presidential candidate Donald Trump's goal to build a wall along the Mexican-American border to keep out unwanted crime. The pope's comments have sparked questions from American voters and politicians alike about what he can say on American political matters.
"A person who thinks only about building walls, whether they may be, and not building bridges, is not Christian." Francis said.
Although the pope insisted his comments were purely religion-based, this has not stopped Trump and his supporters from questioning his authority to judge someone else's faith.
"For a religious leader to question a person's faith is disgraceful," Trump said. "I am proud to be a Christian and as President I will not allow Christianity to be consistently attacked and weakened."
Trump's plan is to not only build a wall on the Mexican border, but to have the Mexican government pay for the wall themselves. He also wants to deport all unregistered immigrants, an estimated 11 million people living and working in America.
Senior Dimitri Sotos believes the pope's comments on Trump will sway voters away from his campaign.
"I think that the pope openly bashing Trump will affect the religious voters," Sotos said. "The pope is a prominent figure not just religiously, but socially as well. When an influential person like that endorses or talks against an official, opinions will always change."
Trump also accused the Mexican leadership of using the pope as a political pawn to encourage illegal immigration. Trump has argued that the pope didn't see the crime and negative economic impact Mexico has on the United States, and that he has only heard Mexico's side of the story while visiting the people there.
Freshman Sarah Stapleton agrees that the pope overstepped his bounds as a religious leader by making these statements about Trump.
"I don't think it was correct of the pope to say this," Stapleton said. "No matter what his intentions were, he will influence the vote for Trump at least a little. America's politics are not something to be decided by religious figures unless they live in this country."
Trump threatened that "if and when" the Vatican is attacked by ISIS, the pope will regret not having supported him. Meanwhile, Trump and his supporters are accusing the pope of hypocrisy because the Vatican itself has a wall around it.
Government teacher Mrs. Schmidt believes that this new batch of criticism against Trump will not be enough to turn his supporters.
"Trump has received quite a bit of criticism for his comments, and this has not swayed his supporters," Schmidt said. "I do not think the pope's comments will change the view of his voting base."