Striking performance by girls bowling at regionals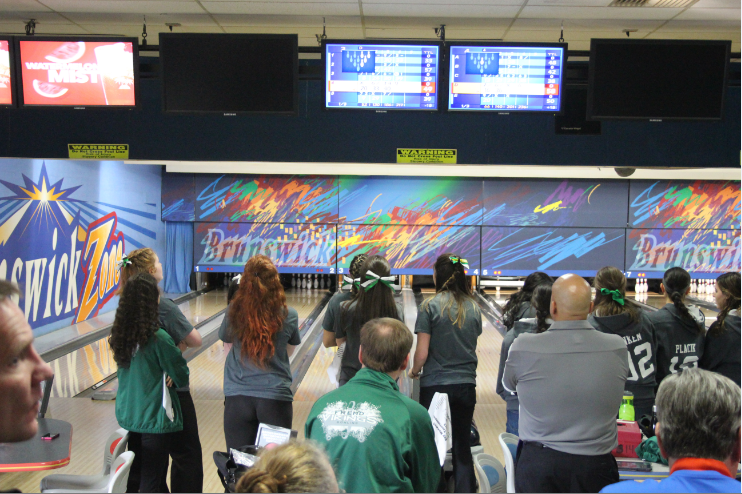 Tyler Mitzner, Staff Writer
February 10, 2016
Down 126 pins from the clinching spot, the Fremd girls bowling team needed a miracle to advance beyond regionals to sectionals, attempting to move past Prospect into fourth place on Feb. 6. Unfortunately their efforts weren't enough, and the Vikings finished 210 pins short.
To even be in that position though was impressive in itself. After a strong start, the Vikings had a few rough games and fell to eighth place, 254 pins from the clinching spot. From there they battled to get within 200 pins and a chance to move on to sectionals.
Head coach Ruben Hinojosa comments on the character of the team to come back from that far down to give themselves a fighting chance.
"I was proud of the way the bowled in the afternoon. They really bounced back and gave us an opportunity to go for it," Hinojosa said. "We had a chance to possibly make it into sectionals as a team which was our goal. We just missed it."
The cause of the Vikings troubles were small mistakes that cumulated into larger problems. Out of 300 bowls, the Vikings missed getting all ten pins down 77 times. While many of those missed spares were one-pin spares, which one may not think would lead to losing by 210 pins, if they were to get many of those spares the point multiplier would have vaulted the Vikings into to first place.
Hinojosa discusses the missed opportunities that led to Vikings inability to advance.
"If we would have picked up 80 percent of our one-pin spares we would be going to sectionals," Hinojosa said.
Nevertheless, there are some silver linings from Fremd's showing at the regional tournament. Senior Becca Rutowski and junior Stephanie Judkin were able to advance to sectionals as individuals. Rutowski knocked down a total of 1097 pins with three total turkeys and a four-bagger. Judkin was the most consistent of all of Fremd's bowlers, with all of her scores within 30 pins of each other, knocking down a total 1071 pins with one turkey.
Judkin is excited about not only going to sectionals but being able to accompany Rutowski, who was the Vikings' sole sectional representative in 2015.
"I'm so happy," Judkin said. "Becca was the only one last year and I'm happy that we can both go."
However, after all the excitement and joy, Rutowski and Judkin need to get down to work this week. They were in eighth and tenth place of the individuals respectively, and if they want to move on to state they'll need to improve.
Rutowski hopes to surpass her previous success at this year's sectional tournament.
"Last year I missed qualifying for state by ten pins and I really want to make it back," Rutowski said.
Next year projects a lot of promise for the Vikings. Out of the six bowlers for Fremd at the regional tournament, juniors Stephanie Judkins, Maddie Ostoich, and Kathryn Evenson, as well as sophomore Hannah Evenson will be returning next year. These four combined for 2810 pins of the Vikings' 5015 total pins. While the future is bright for Fremd, Rutowski and Judkin are focused on the sectional tournament on Feb. 13.