D211 allows transgender student to use the female locker room
District 211 announced its agreement to allow an unnamed transgender student access to the female locker room at her school on Dec. 7, as long as she uses the private changing stations within the facility. This decision occurred at a Board of Education Meeting at James B. Conant High School.
The student filed a complaint against the Department of Education almost two years ago. The  Office of Civil Rights (OCR) states that under Title IX requirements, transgender students should have complete access to gender-specific locker rooms. Title IX states, "No person in the United States shall, on the basis of sex, be excluded from participation in, be denied the benefits of, or be subjected to discrimination under any education program or activity receiving Federal financial assistance." Instead, the district gave the student a private area to change for her gym period. The district still allowed the student to use the female bathroom, participate in girls sports teams, and change her name in the school records, which are all required by federal policy concerning transgender students.
Superintendent Daniel Cates acknowledges the bravery transgender students have for embracing who they are.
"The body that transgender students have on the outside is not the identity they are on the inside. For all of us, it is our identity on the inside that defines who we are, and who we are on the inside is what truly matters," Cates said. "We all can rightly admire the courage and strength of transgender youth to convey who they truly are."
In response to the student's complaint, the district installed five privacy curtains in one of the three female locker rooms on Oct. 15. However, the district did not allow her unrestricted access to that locker room, on the premise that she would be violating the privacy of other girls. As a result, OCR accused District 211 of denying the student with equal opportunity to benefit from her school's educational program by barring her from unrestricted locker room access. The decision to not allow the student unrestricted access to the girls locker room could have cost $6 million in federal funding to the district.
Senior Insiya Syed feels allowing transgender students to change in the girls locker room will violate other girls' privacy, specifically Muslim girls.
"People who wear the hijab have to be covered in front of men. In a locker room full of girls, a hijabi girl can change in peace, and she does not have to worry about anyone seeing her hair that's not supposed to be seeing it. Now when you bring in a person that has the male anatomy, it is kind of an invasion of her privacy," Syed said. "I feel like it is not as simple as just saying that a person can identify as a different gender. I just don't feel like it is enough to say that that's a reason they should be able to change in the girls locker room."
The District reached a resolution on Dec. 2 with the aim of protecting student privacy. This agreement requires District 211 to provide the student in question access to the female locker room and provide private changing stations for any student. The resolution also stated that transgender students granted access to gender-specific locker rooms will utilize a private changing station when changing clothes or showering. The agreement did not apply to other students in District 211 or to other school districts, and granted access to locker rooms by Jan. 15.
Senior Jake Lytle believes D211's agreement was an adequate solution to the case.
"Ideally, the district would allow full access to student A," Lytle said. "But considering the fact that she has chosen to utilize the privacy curtain, I think the agreement is a step in the right direction."
After it was found that OCR was misinterpreting the resolutions that were agreed upon to the press, D211 released a statement titled "High School District 211 Expresses Outrage over Bad Faith Actions By Federal Office for Civil Rights on Transgender Settlement." OCR responded to D211 in a letter sent on Dec. 7, in which OCR affirms the original agreement with D211, in that the agreement only applies to the transgender student that filed the complaint and states that D211 did not violate the federal law.
Principal Kurt Tenopir thinks Fremd's goal with regard to its transgender students is to make transgender students feel accepted at school by adjusting to their needs.
"We try to provide an environment where all students feel safe and comfortable to come to school," Tenopir said. "I think we have been really accommodating for many of our students who are transgender by helping them with things like their schedule, to make sure they have a schedule that is conducive to their needs, to make sure what their bathroom requests are and we're able to help them to utilize the facilities that they need."
The case invoked student response from D211 schools. Students from D211 schools have spoken for both sides of the issue at the board meetings and have been spreading the hashtag #WeStandWithHer on social media to show support for the student. Fremd Alliance has been spreading #WeStandAsOne on social media as well.
Alliance sponsor Jason G. Spoor-Harvey explains the meaning behind the hashtag #WeStandAsOne.
"We are using the hashtag #WeStandAsOne because we are just focused on the fact that it's not just an issue of particular to one individual, but an issue that affects the whole community," Spoor-Harvey said.
About the Writer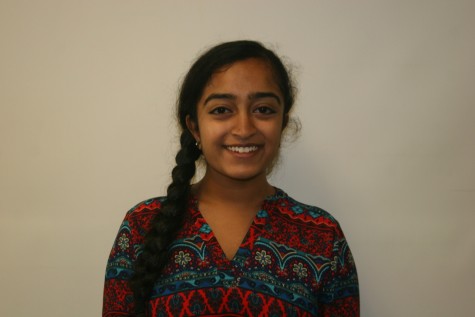 Natasha Thomas, News Editor
Natasha Thomas (senior) has been part of the Viking Logue since her freshman year. With her height of 4'9", she is the shortest editor in Logue. Natasha...