Alliance Club's mission to promote equality
By Nabeela Syed
Through all-embracing activities and inclusive fundraisers, the Alliance Club promotes the idea of equality, endearment, and love for all. Previously named Multicultural Club, Alliance has expanded to advocate for equality, especially individuals marginalized based on gender, race, and sexuality.
Club sponsor Jason Spoor-Harvey has witnessed the changes within this club for the past sixteen years in its name and membership, but acknowledges the constant sense of community present in the club.
"We've had many forms of this club, but it's been known as Alliance for the last three to four years," Spoor-Harvey said. "What happened was that we had a club initially called the Gay-Straight Alliance club and another one called the multicultural club, but then the membership in that club was not as strong as we needed it to be, so we decided to combine forces to have this well accepted club."
With strengthened membership and leadership, Alliance has progressed onto create a positive and uplifting environment around Fremd. Club president Johnny Whitfield describes the general impact Alliance has had.
"Alliance is meant to be a club to spread love and non-hateful things towards everybody, but our focus is people who we feel are being mistreated for being who they are," Whitfield said. "Earlier, we did not have the membership to be considered a club, earlier we used to be called the gay-straight alliance club and deal with mainly gender and sexuality issues, but now we extended it to racial and gender equality stuff. Membership has increased since last year and this year we have good leadership and membership."
Especially now, Alliance has become increasingly active in the community as they work to speak out on matters especially pertinent to Fremd and the general community. Their club encourages volunteering and charitable acts to give back to the community.
"We're part of the We Stand With Her and Black Lives Matter movement, we also work to promote racial equality stuff, we're doing a Black Lives Matter related thing later. We generally just want to promote equality and non discriminatory acts," Whitfield said. "We're actually doing a charity project called the Shoebox Project where we fill a shoebox with dollar store toys or toothbrushes, things a poor family might not have, but may need or want for Christmas."
With the uplifting message this club publicizes, members like junior Fatima Abidi acknowledge appreciate the impact Alliance has.
"It helps other people get justice," Abidi said. "We do different kinds of fundraising and help people often."
Alliance specifically hones in on creating an accepting and endearing environment to support their club members along with other people in the Fremd community who have been discriminated against. This all-inclusive aura has allowed for diversity among the members that unites them. Senior Jordan Freer especially enjoys that aspect to the club.
"I love that it's a place where people from all different backgrounds can come together and just understand each other and work towards helping other people accept each other," Freer said. "I think the sheer diversity of the members really makes you feel like you're part of a community."
The growing membership in Alliance of diverse students had an extremely positive impact. With this companionship and sense of trust embedded in the club, Spoor-Harvey acknowledges the determination and passionate that is present in the club's community.
"Everybody in this club are generally good people who want the best for others and the community. They're always looking for ways to remind people they're important and matter.We all share this moment, this common human experience" Spoor-Harvey said. "They're very resilient. Its great to see young people in the face of adversity and discrimination they are able to smile and let it roll off their backs."
If you'd like to be a part of Alliance club and get involved in their activities contact Mr. Spoor-Harvey at [email protected] and join the fun.
About the Contributor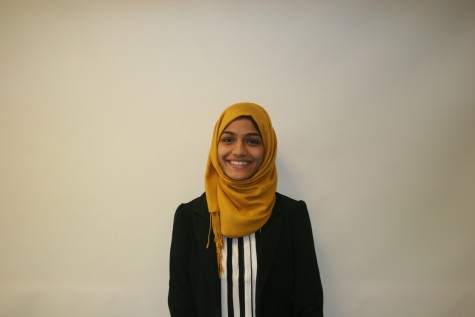 Nabeela Syed, Editor-in-Chief
Nabeela joined the Viking Logue as a sophomore, was a Features editor as a junior and is now in her senior year filling the shoes of Editor-in-Chief alongside...