Chicago Police Under Scrutiny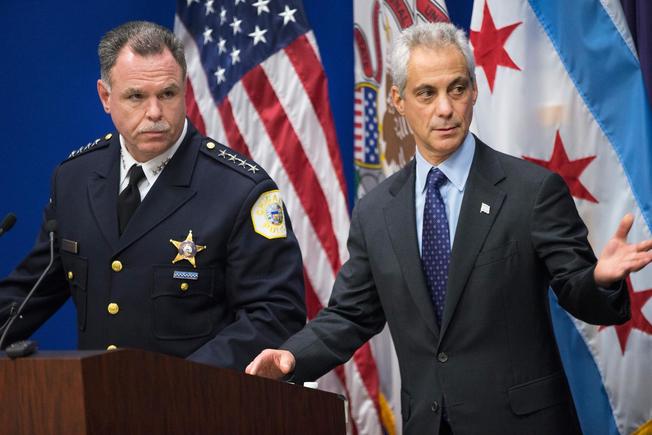 The Chicago Police Department is under scrutiny by the US Justice Department on accounts of excessive use of force in the wake of multiple police shootings. The investigation was opened on Dec. 7, just two weeks after the controversial release of police dashboard camera footage showing an officer fatally shooting 17-year-old Laquan McDonald back in Oct. 2014.
According to Attorney General Loretta Lynch, the investigation will mainly focus on the the department's use of force, and how the department tracks and accounts for such incidents.
The video footage of the McDonald case was withheld from the public for nearly 13 months, sparking daily protests and anger from the public. Police reports of the incident appeared to contradict the events in the video, causing widespread distrust of the police. Officers on scene recounted McDonald lunging towards them with a blade, yet video evidence showed McDonald walking away while an officer fired upon him.
The officer responsible for the death of McDonald, Jason Van Dyke, was indicted on charges of first-degree murder. Van Dyke's family has posted a bond of $150,000, 10 percent of the $1.5 million bail. He was released shortly after.
The fatal shooting of McDonald brought the case of Ronald Johnson to light. The two cases bear a striking resemblance – Johnson was killed only eight days before McDonald under similar circumstances. George Hernandez, the officer involved in the death of Johnson, was not charged.
A crowd of angry protesters gathered in front of Chicago's city hall this past Friday, calling for the resignation of Chicago Mayor Rahm Emanuel. Emanuel apologized for the incidents and promises full cooperation with federal investigators.
Freshman Keon Sung believes the deaths of McDonald and Johnson were tragic and easily preventable, but thinks the public may be reacting too harshly to the mayor.
"I think people protesting for the resignation of the mayor is a little too hardcore," Sung said.  "The mayor is certainly responsible to some extent, but I think police racism is more of an internal issue."
However, Junior Daniel Yun believes that the mayor should resign as the incidents occurred under his jurisdiction.
"I would also call for the resignation of the mayor because it's his job to oversee law enforcement," Yun said. "If he can't control the police then I don't think he does his job very well."
Several top officials have resigned, including Scott Ando, head of the department responsible for the investigations of police shootings, and Police Superintendent Garry McCarthy. Despite growing criticism, a steadfast Emanuel announced that he has no intentions of resigning.
Social studies teacher Michael Brown believes that while police shootings are misfortunate, they are not uncommon.
"The treatment of inner city African-Americans is a very controversial issue in society today as the perception is that police brutality occurs in which young black men are unfairly targeted," Brown said. "We continue to see events flaring up around the country bringing a lot of attention to an issue that has been occurring for a long time."