Paris hosts international climate talks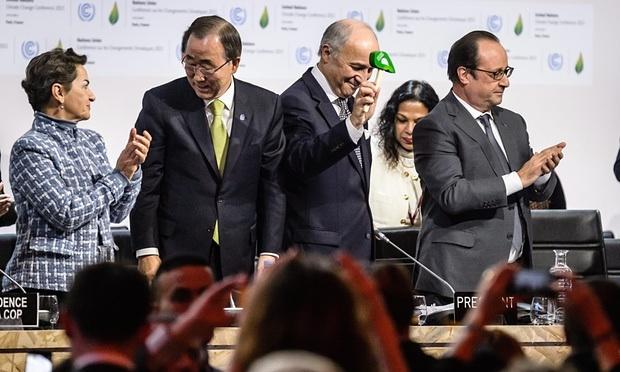 195 nations converged in Paris on Nov. 30, which launched two-week talks that discussed a possible global agreement on climate change, known as COP21. They passed a deal on Dec. 12 that commits every nation to lowering greenhouse gas emissions to help mitigate the most drastic and ravaging effects of climate change.
During the talks, the major points that were debated on was deciding on a common goal to stave off the most detrimental effects of global warming and whether or not all nations would share the burden equally. Although the UN had endorsed a goal for limiting global warming to no more than 2 degrees Celsius, more than 100 nations pushed for a tougher goal of 1.5 degrees Celsius in order to keep their nations from being affected by the detrimental effects of climate change such as rising sea levels.
Developing countries called for a prioritization of cutting greenhouse gas emission in developed nations in order to fully address the issue at hand. On the other hand, developed nations insisted on a burden of alleviating climate change that should be shared equally with all countries.
Although many nations such as the United States and China expressed their satisfaction with the agreement, not all nations had the same standpoint. Developing countries such as the Democratic Republic of Congo had advocated for a legally binding provision which required all developed nations to provide at least $100 billion a year to help the developing nations abate and adapt to climate change. However, in the final deal, it appears only in a preamble, which isn't part of the legally binding section of the agreement.
Senior Anusha Thotakura believes that the agreement as a whole displays an international attitude of cooperation towards recognizing climate change as a real threat.
"In comparison to past talks, this round seems to be stricter. Only one developing country met the requirements for the last deadline that was specified, which was Mexico," Thotakura said. "Bringing all the countries to the table ensures that the guidelines defined are attainable for all countries."
However, scientists stated that at best, the deal would cut global greenhouse gas emissions by about half, which will stave off an increase in atmospheric temperatures of 3.6 degrees Fahrenheit.
Freshman Trent Mueller acknowledges that a large burden was placed on this group of world leaders, but is skeptical as to whether or not any further substantial progress could have been made.
"Sometimes I worry a lot that they'll do just what's necessary to make them look good to others," Mueller said. "They might not do what's needed because that would take extra commitment. While I wish I could, I'm not sure I fully trust them."
Scientific studies show that an increase in the atmospheric temperature of 2 degrees Celsius will bring on rising sea levels, severe droughts and flooding, widespread food and water shortages and destructive storms. Scientists and leaders stated that this deal represented the world's last and best hope of averting the most devastating effects of a warming planet.
Science teacher, Darius Sanchez discusses the fact that the first step in combatting climate change is to change people's perception of it, and to begin implementing policies.
"You really have to change the mindset of people on how they use things that produce CO2 to have an impact on that," Sanchez said. "What might really mitigate climate change is to start to put CO2 emission controls on other countries such as China, India and Brazil – which are the key contributing countries of CO2 to the atmosphere."