Fremd opens the Viking Lounge
A new common area, the Viking Lounge, is now open in Fremd's auditorium hallway. The lounge is equipped with chairs and tables for students to sit and socialize.
For as long as he's been at Fremd, Principal Kurt Tenopir has believed that students needed a gathering space other than the cafeteria and the library.
"We found a place in the auditorium hallway that we could make a nice common area that becomes that environment that's quieter than the cafeteria, but maybe a little louder than the library," Tenopir said.
The planning for the project began last spring, where the school set aside money in the capital budget, used to buy permanent school structures. Once the money was secured, the design process began with a furniture supply company, collaborating with the school to envision what the space would look like and pick out the details of the tables and chairs.
For now, the area is a trial space for students to decide what they want to do with it. The lounge opened without much commotion, so what the space was used for was up to them. Many students now eat, study, and do homework there.
Junior Naga Kusuma Sampath Meruva, who eats lunch at the tables, believes the lounge is a much more welcoming environment than the cafeteria.
"When I sit in the cafeteria, I feel alone, and now when I sit here, I feel much better," Meruva said.
Senior Rachel Perlin thinks the Viking Lounge is a beneficial improvement for students.
"I think it's a cool addition to the hallway, and it's a good place for people to hang out, especially during lunch and passing periods," Perlin said.
However, a problem that could come up with that space regards noise control. There are classrooms that back up to the hallway, so students have to keep their conversations at a low volume so as not to disturb the classes.
Freshman Vikas Reddy thinks the common area is a more relaxed space for students who want more comfort in their surroundings.
"It lets kids have another environment that's quieter and more comfortable the cafeteria, if they prefer that," Reddy said.
Principal Tenopir has other ideas for more gathering places like these in various places around the school, and hopes to expand on them in the future.
"There are some other spaces within that hallway and potentially upstairs where we could provide some more seating and create more of an environment for students to hang out," Tenopir said. "There's seating for about forty students on what we've currently purchased, so if you think about the 2700 students we have and how many sit on the floor during their free periods or before and after school, we think that a few more seats might be a good thing."
About the Writer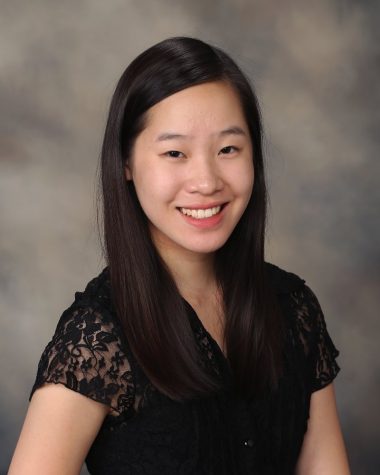 Hannah Lin, Editor-in-Chief
Hannah Lin, a senior, has been part of Viking Logue since her freshman year, when she started as a news writer. Outside of school, Hannah is usually found...