Bowl season is just around the corner
After many weekends, games, rankings, upsets, blowouts, and nail-biters, the NCAA football regular season has finally come to an end. Four teams have outlasted the rest and will fight for a championship come January. For the 78 other teams, they have a chance to end their season on a high note with a bowl win. The fun begins Sat., Dec. 19 and concludes with the National Championship on Mon., Jan. 11.
Playoff Teams
No. 1 Clemson Tigers (13-0) – As the first team to come into the College Football Playoff undefeated, Clemson will go down in history as the first perfect playoff champion if they can win two more games. Hoping to bring them to this title is their quarterback, Deshaun Watson, whose leadership, explosiveness, and consistency placed him third in Heisman voting. Besides a few narrow wins, Clemson has cruised to their perfect record and ACC championship. That being said, their close games came to ranked teams like Notre Dame and North Carolina, giving the other teams some extra hope. Ranking 7th and 12th in defense and offense respectively, Clemson has a solid all-around game with no glaring weaknesses.
No. 2 Alabama Crimson Tide (12-1) – Another year, another Alabama team rolling into playoff position. After an early mishap against Ole Miss at home, head coach Nick Saban righted the ship, and leading the Crimson Tide to ten wins in a row, with only one of the margins being under one score. After LSU running back Leonard Fournette dominated early, Alabama rusher Derrick Henry has come on as the best SEC running back, setting multiple records on his way to a Heisman trophy. Despite their rushing success, Alabama ranks 73rd in passing offense and could find problems moving the ball through the air.
No. 3 Michigan State Spartans (12-1) – Although some may say Michigan State got here because of a lucky win over Michigan, their sole loss was due to a missed call that gifted Nebraska a win in the final seconds. Combined with wins over top teams like Iowa, in the Big Ten championship game, and away at Ohio State, the Spartans proved they belong here. Senior quarterback Connor Cook and a solid defense have brought Michigan State this far, although their 68th ranked total offense could have trouble scoring points.
No. 4 Oklahoma Sooners (11-1) – Last year, the CPF Committee gave Big 12 fans a reason to be sour after one loss TCU and Baylor were the first two teams left out of the playoff. This year, Oklahoma has avoided their fate and now sits tight at the fourth spot. Dynamic quarterback Baker Mayfield  led the Sooners to seven straight wins since a loss to Texas, including three in a row over the other best Big 12 teams to end the season. However, their one weakness could be their 48th ranked running defense.
Playoff matchups and picks
Clemson vs. Oklahoma (Orange Bowl, December 31) – With dynamic, proficient quarterbacks on both ends, the leaders of these teams are guaranteed to put on a great show. Although the Tigers are undefeated, Clemson barely escaped with a win over the closest team to Oklahoma's caliber, Notre Dame, and Oklahoma has a better offense. Clemson's defense is a bit better, but they have not played offensive powerhouses like those in Oklahoma's Big 12. The Sooners are rolling in to the playoffs while Clemson won the ACC championship after a phantom call that could have led to overtime. Look for Oklahoma to upset the Tigers in a close game.  
Alabama vs. Michigan State (Cotton Bowl, December 31) – This match-up pits two perennial powers from the North and the South in a Texas-sized clash in Dallas. Both teams come in with strong defenses but average passing offenses. However, Alabama's rushing game is far better than Michigan State's, and Derrick Henry should be able to tire out the Spartans. On the other hand, Michigan State has the advantage if their defense steps up to the rushing challenge because it brings the game down to Connor Cook and the Spartans' superior passing attack. Unfortunately for the Spartans, this will probably not happen, and Derrick Henry will most likely take over. Alabama has the advantage in this one and should advance.
National Championship, January 11 – Based on the above predictions, Oklahoma and Alabama will face off in a heated battle in Phoenix. Oklahoma has a chance because of their offense, but Alabama has a very solid defense and should be able to handle the Sooners. Similar to the Cotton Bowl, Derrick Henry should lead the Crimson Tide to victory, especially since Oklahoma's run defense is mediocre. Alabama is in the best position to hoist another National Championship trophy, which would be their third in five years.
Major bowl games  
Peach Bowl (Houston vs. Florida State, December 31) – One year removed from a playoff berth, the Seminoles take on a non-power conference team in Houston, who looks to prove that they are a top team with a win. Both teams are fairly even offensively and defensively, and the match-up should be a close one.
Outback Bowl (Northwestern vs. Tennessee, January 1) – Local favorite Northwestern gets to show its skills on a big stage as they take on the Volunteers to begin the full slate of games on New Years Day. The Wildcats have a defensive advantage and hope to hold down a solid Tennessee rushing attack.
Citrus Bowl (Michigan vs. Florida, January 1) – The Wolverines and Gators are both looking to bounce back from bad losses to end the season. It is tough to tell who will prevail at this point, because both feature strong defenses and not much offense. This one should be a close, low-scoring game between two traditional football powers.
Fiesta Bowl (Notre Dame vs. Ohio State, January 1) – These Midwest teams will square off in Phoenix in a clash between two large fanbases. Notre Dame is two incredibly close losses away from being undefeated, while Ohio State only faltered in a close game to eventual Big Ten champion Michigan State. The Buckeyes have a slight advantage in defense and running, while Notre Dame has a far superior passing game.
Rose Bowl (Stanford vs. Iowa, January 1) – Pasadena promises to bring excitement to the new year as the Cardinal and Hawkeyes go at it. After losing a heartbreaker to Michigan State in the Big Ten championship, Iowa is looking to overcome Stanford, who has had many close games themselves. Do-it-all Heisman runner-up Christian McCaffrey hopes to run past the Hawkeyes' stout defense as Iowa eyes its first bowl win since 2010.
Sugar Bowl (Oklahoma State vs. Ole Miss, January 1) – This match-up contains two teams who have upset top teams this season, but could not hold on to top positions themselves. Both the Cowboys and the Rebels have strong offenses, but neither features a prolific defense. Look for this one to be a high-scoring, close game.
Another exciting year
2015 was another exciting year for college football, with many upsets and close games to end the year. All said and done, four teams still have a shot at a championship and the best competition is still to come. So, for college football fans, enjoy this week and gear up for bowl season— the hype begins Saturday.
About the Writer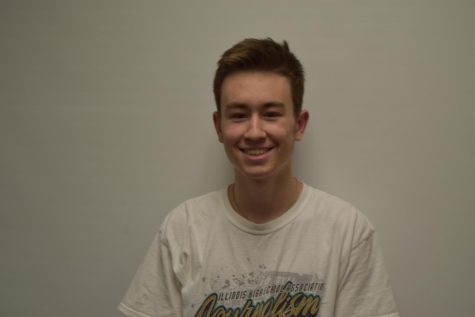 Tim Moran, Sports Editor
Tim is a third year sportswriter for the Viking Logue. He has competed at a regional competition and placed fourth out of 12. His main activity at Fremd...