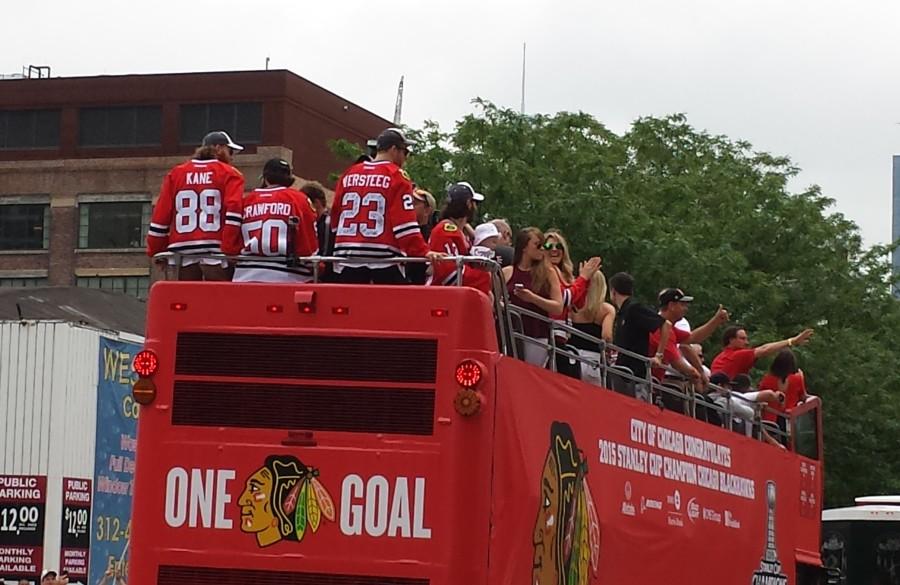 Kane leads Blackhawks with historic point streak
After winning the Stanley Cup in 2015, Patrick Kane has kept the NHL's attention on the Chicago Blackhawks in the 2015-16 season by scoring a point in 26 straight games. In the NHL, a player can record a point by either scoring a goal or assisting on a goal. During his streak, Kane tallied 16 goals and 25 assists while leading the Blackhawks to a 17-10-4 record.
Although the Blackhawks are only in fourth place in the Central Division, ten points behind the Dallas Stars, there are few Chicagoans who would argue the team is underperforming. The Kane streak took the spotlight in Chicago and gathered steam with each game before ending on Dec. 15 against the Colorado Avalanche. The positive media attention for the Blackhawks' star is a welcome departure from the rape allegations that surfaced and have since been dismissed, against Kane this past summer.
In the past 26 games, Kane has tallied 39 of his league-leading 46 points which puts him six ahead of Dallas teammates left wing Jamie Benn and center Tyler Seguin. Although Kane, when healthy, has consistently hovered near the top of the points leaderboard in past seasons, he has never before reached this level of production this early in the season. His accomplishments are even more impressive because he's played most of his shifts with new teammates rookie left wing Artemi Panarin and center Artem Anisimov. While it usually takes new lines a while to get on the same page, these three hit the ground running, scoring eight goals in the Hawk's first three games and powering them to three straight wins. Many believe the reason why Patrick Kane is playing so well is because of  23 year old Panarin who leads NHL rookies in the points category. Kane and Panarin have a strong chemistry between them and a fresh young face is always welcome in a club filled with veterans, such as Marian Hossa who just played his 1,200th game on Dec. 13.
Kane recorded his nineteenth straight game with a point against the Los Angeles Kings on Nov. 28,  and, in doing so, surpassed Phil Kessel and Eddie Olczyk for the most consecutive games by an American born player. In the context of NHL's greatest point streaks, Kane still had a long way to go. While he now holds the longest streak in Blackhawks' history after passing Bobby Hull at 22 games, Kane did not break into the top ten streaks in the history of the NHL. He passed Sidney Crosby's 25 game point streak from the 2010-11 season, but is still two games behind five players who scored in 28 consecutive games. This includes arguably the greatest player of all-time, Wayne Gretzky, who holds four of the longest records at 28, 30, 39, and the all-time record of 51 games.
It took a bit of luck for Kane's streak to survive for 26 matches, including five games where he scored a goal or an assist in the last two minutes of the game or in overtime to keep it going. There have also been some unorthodox ways that Kane scored; on Dec. 6 against the Winnipeg Jets, his only point came on a Panarin goal where Kane redirected the puck using a legal hand pass and was given an assist on the play. The streak also included a few empty net goals and assists. Critics of Kane are quick to point out how these are cheap points that don't really help the Blackhawks, but during these 26 games he has also scored three game winning goals and accounted for over 50 percent of their total offense.
Whether his accomplishments were fueled by luck or skill, hockey fans across the United States were enamored by Kane's streak. He looks to begin a new streak at home against the Edmonton Oilers on Dec. 17. As if winning three championships in six years wasn't enough, Patrick Kane has now, once again, cemented his place as an NHL great.