Chipotle forced to close several Washington and Oregon stores following E. coli outbreak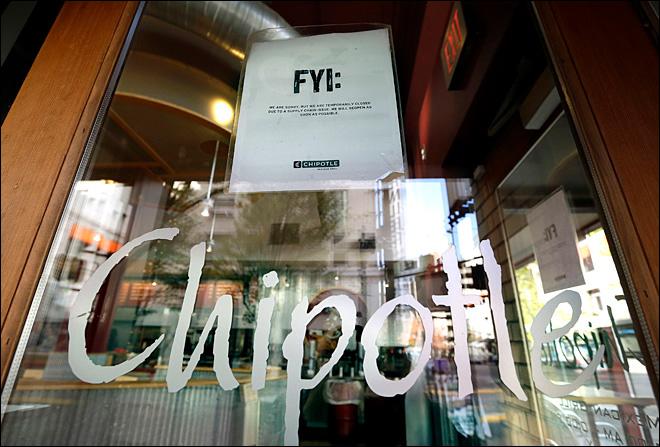 Ann Rajan, Staff Writer
November 18, 2015
After 50 people fell ill due to an E. coli outbreak stemming from the consumption of Chipotle products, the company was forced to close 43 of its stores in Washington and Oregon in early November. Since then, Chipotle has slowly begun reopening these stores after thoroughly sanitizing and restocking new ingredients tested for pathogens beforehand.
As a result of the incident, two Washington women and one Oregon man have filed lawsuits against Chipotle, each seeking damages of $75,000. Charmaine Mode of Kelso, Washington was the first victim to sue the company after contracting the bacterial infection. She is suing Chipotle for negligence, and asking for the money to cover medical expenses, lost wages, and other damages resulting from the infection. Jessica Ellis, also of Washington, is suing after missing six days of work and being forced to cancel her vacation to Hawaii. Chris Collins of Oregon presents a similar case, suing after missing two weeks of work.
Sophomore Shreya Tewari believes that the restaurant can take more precautions in the future.
"Restaurants need to be more cautious with their food and make sure workers double check the ingredients," Tewari said. "It's a good idea that Chipotle closed their stores down. In the future, they can be more prepared for situations like this."
In the past week, health officials announced that they were unable to find the source of E. coli in Chipotle's food. They were aware of the particular strain of E. coli discovered, but could not find that strain despite testing hundreds of samples. The search continues in finding the particular meal item or ingredient that caused this outbreak. Additionally, the company has decided to implement new safety procedures and keep two drug safety scientists to overlook the improvement of their food standards.
Chipotle stock fell by 5 percent in early November as a reaction to the E. coli outbreak. However, the 43 restaurants that closed only represent 2 percent of Chipotle's 1,931 franchises. The main threat to company sales was people's fear of contracting an infection.
Health teacher Jason Jetel argues that Chipotle needs to take action to keep their customers.
"Chipotle's responsibility is to make sure that their customers' health is safe," Jetel said. "They need to ensure that their suppliers are staying up on the standards of cleanliness that the company and health departments require in order to gain the trust of their customers back."
Senior Connor Puritz, who is an employee at a local Chipotle, believes that the restaurant could not have done much to prevent it. However, he noted that the company hasn't been severely impacted financially in the Midwest.
"Since Chipotle does have high cleanliness standards, I don't think there is much more the stores themselves could do to help prevent E. coli," Puritz said. "The E. coli outbreak really hasn't affected sales. People understand the outbreak is restricted to the Northwest. "