China ends One Child policy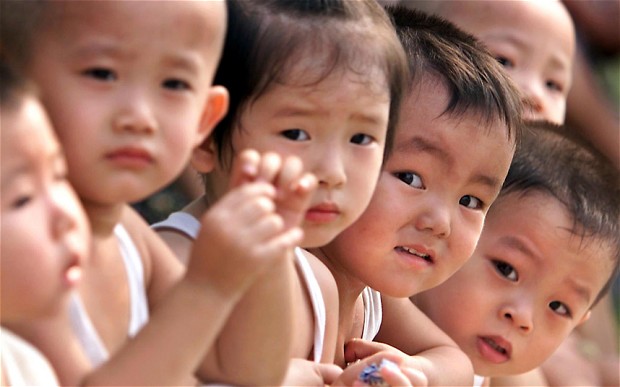 Madeline McFadden, Contributing Writer
November 18, 2015
After 37 years of implementation, China lifted its one-child policy on Oct. 29, allowing every married couple to have two children rather than one. This controversial strategy has been facing severe criticism for more than a decade due to the extreme methods used to enforce it.
According to CNN's statistics,  6.7 million Chinese women were forced into abortions in 2012 to prevent a second child from being born. Millions of other baby girls have been secretly killed or aborted by parents who want their only child to be a son. This has taken a huge toll on China's population, increasing the number of males and the elderly. The forced abortions have also been blamed for a huge rise in suicides among women.
Wang Yunpeng, a Chinese citizen born during the beginnings of the policy's implementation, shared his beliefs on the effects this rule had on children in an interview with the Washington Post.
"In 5,000 years of Chinese history, we will have been the only generation made up of almost all only children," Yunpeng said,"The policy has caused so many problems."
Recent studies have shown that by 2030, 400 million citizens of China will be over the age of 60 due to the one-child policy. Currently, 14% of China's population is made up of the elderly. China's gender ratio is askew, with the male population exceeding the female by 50 million people.
Senior Raheem Raji shares his views on how the new policy will affect the disproportionate population.
"I think the change will help because families will now want to have a boy and a girl more than just a boy," Raji said,"If everyone wants a boy, generations may begin to be 70% male."
Children raised under this policy, despite the detrimental effects it has had, were always told they were the "lucky ones." They were constantly told that they'd be free of the poverty and struggles of previous generations, and were blessed to be a part of this new age in China.
Freshman Suzie Sun, who lived in China for 12 years and is an only child, shared her experience with the policy.
"Many people paid fees to have another child or went abroad, and among the adults I knew, it was pretty common," Sun said.
While the change is almost unanimously agreed to be a positive development for China, many view it as too little too late. The Chinese government will still have the power to force women into abortions. Despite families being allowed two children, forced abortions can still legally take place.
History teacher Steve Buenning believes the government's decision to change the policy may be a good sign for China.
"It's going to have a positive impact because the one child policy has been largely unpopular," Buenning said. "The fact that the policy is being changed shows that the government is being somewhat responsive to public opinion."