Fremd shows gratitude at Veterans Day assembly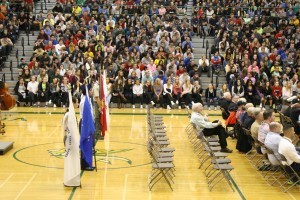 Veterans from all walks of life, including Fremd employers, were honored at Fremd's second annual Veterans Day assembly on Nov. 11.
Technology coordinator Keith Sorensen, who spoke at the assembly, believes it is vital to show appreciation for veterans.
"I think it's a good reminder to the veterans that we're thinking about them," Sorensen said. "I'm not worried about making students patriotic- it's not about that. It's about those people who went away and joined the military, and it changed their lives, so it's all for them."
Social studies teachers Jason Spoor-Harvey and Courtney Billittier first brought up the idea for a Veterans Day assembly a year ago. Last year, a panel of veterans spoke to social studies classes, an event held every other year, and was followed by an assembly.
The veterans at the assembly were recognized individually as they walked in. Students, teachers, and veterans then stood up for the Pledge of Allegiance, which was followed by the National Anthem, performed by Fremd's Wind Symphony, Chamber Singers, and Symphony Orchestra. Veterans stood up when they heard the anthems of their respective military branches during the Wind Symphony's performance of the "Armed Forces Salute."
Senior Alex Knox, the captain of the Color Guard and Senior Flag Bearer in the assembly for the second year in a row, believes that veterans deserve our thanks and respect.
"Veterans Day has always had a special significance to me, because I plan to serve in the Air Force," Knox said. "To me, Veterans Day and showing our appreciation for all that they've done for us is something that is very important."
Students and teachers shared their thoughts about Veterans Day in a video clip projected onto a screen during the assembly. The video encouraged students to say a simple "thank you" to the veterans and ask them to share a story about their military experiences.
This year, students wrote messages of support for veterans on yellow flags, which were placed on the front of the school lawn. Sorensen hopes to have these flags placed along Quentin Road next year so cars driving by can see them.
Fremd also hosted a fundraiser for the Soldiers Project, an organization that provides confidential services for veterans struggling with psychological injuries. Fremd raised $3,400 last year, and set $4,000 as a goal this year, putting into effect a competition between all third-hour classes. English teacher Angenette Fudala's AP Literature and Composition class raised the most money, accumulating $1,460.19, winning a lunch with the veterans and seats of honor at the assembly. In an announcement at the end of the assembly, it was revealed that the collected donations surpassed the $4,000 goal, totaling up to more than $10,000.
Freshman Oleksandra Shashkova, whose three great-grandfathers were World War II veterans, thought the assembly served as a reminder that real people fought and died for the country's freedom.
"As somebody not originally from America, these brave men and women's sacrifices are especially important to me and my family," Shashkova said. "These people were so incredibly selfless that they fought for the freedom and opportunity of people they don't even know."
About the Writer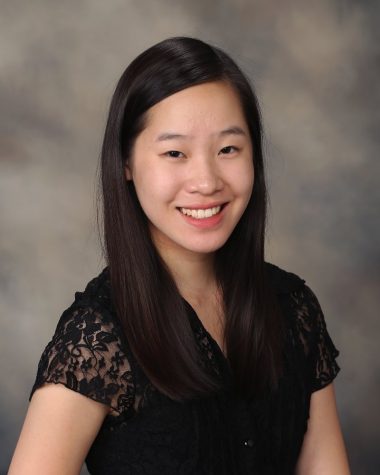 Hannah Lin, Editor-in-Chief
Hannah Lin, a senior, has been part of Viking Logue since her freshman year, when she started as a news writer. Outside of school, Hannah is usually found...