Fremd increases anti-bullying efforts through Unity Day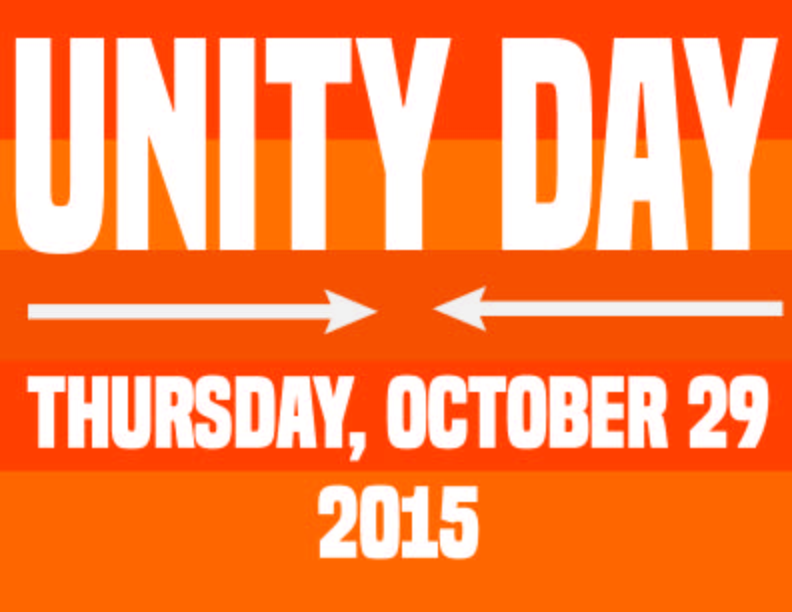 The Viking Logue
October 28, 2015
To raise awareness for bullying and increase prevention efforts, the Parent Advocacy Coalition for Educational Rights (PACER) Center created the National Bullying Prevention Month campaign. The original campaign started as a week-long event in October but has expanded to encompass a month, encouraging communities and schools nationwide to participate. The PACER Center's National Unity Day was Oct. 21, encouraging students to wear orange, sign and display orange banners, and hand out orange ribbons.
Created by families of children with disabilities, the PACER Center's mission is to provide opportunities for children with disabilities. In 2006, the organization created the campaign to combat bullying and stigma of bullying as a "rite of passage" with the message "The End of Bullying Begins with Me." PACER's expansion of Bullying Prevention Month in October and Unity Day calls for student and community involvement.
Through the Love Your Friends Equally Club (LYFE), Fremd High School has increased involvement in its anti-bullying campaign by hosting its own Unity Day on Oct. 29. In preparation, freshman students in their VAMP classrooms have signed and decorated orange ribbons as well as have spent the week discussing the effects of bullying and the importance of speaking out. All students are encouraged to wear orange and sign an anti-bullying pledge during their lunch periods. The signatures on the orange hands will be posted to the wall in the cafeteria to display a sense of unity and safety within the school.
Fremd's expanded efforts toward bullying prevention include the new John Trout Anti-Bullying Scholarship, a $5,000 scholarship awarded to two students each year. The scholarship was started by classmates of John Trout, a Fremd graduate, from the class of 1975. Originally, the campaign for donation of funds only raised $10,000, but Jeanne Trout, mother of John Trout, willed $50,000 to the scholarship, allowing it to continue past 2015.  The goal is to create a more accepting environment as well as stand in solidarity with bullying victims and participate in prevention efforts.
The Viking Logue encourages these efforts to increase awareness of the bullying that occurs within the school as well as to enhance the experience of all the students at Fremd by attempting to create a sense of community and safety. While the month of October is scheduled as National Bullying Prevention Month with National Unity Day and Fremd's own Unity Day, it is essential that we as students carry the messages of October beyond this month.