Palatine Park District hosts fall festivities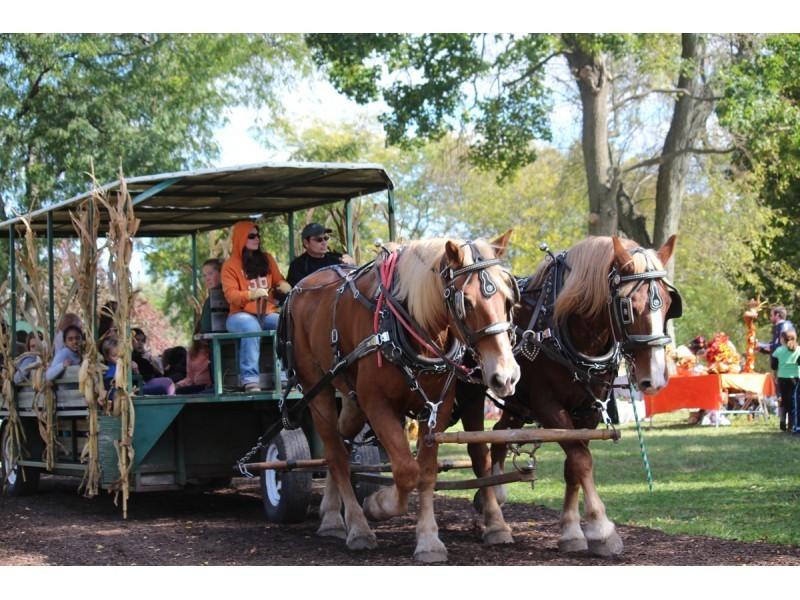 Arim Lee, Staff Writer
October 15, 2015
Since the start of fall, the Palatine Park District has been hosting several fall festivities throughout the area.
The Fall Festival took place at the Palatine Stables on Oct. 10. The Fall Festival had many different fall activities for children to play and spend their time with their families. The annual festival included free wagon rides, a petting zoo, pony rides, live entertainment, a kids zone with bounce houses, a scarecrow decorating contest, and a craft center. Admission and parking were free, but pony rides and other activities came with a separate fee. The first 1,000 attendees received a free goody bag as a bonus.
The Palatine Park District continues to host fall activities such as the 10th annual Halloween Hustle 5K Fun Run and Walk that will take place on Saturday, Oct. 24 at 8:30 am for 5K and 8:10 am for the Kid's Dash. The Kid's Dash is a shorter course for younger children to participate in the event. Both run through historic downtown Palatine starting on Eric Drive. This race is a part of the CARA circuit race which is a series of 18 local races in Cook, DuPage, and Lake counties. Participants may choose to run a competitive race or pick between two non-competitive courses- Participation or Long Distance. The top three runners in each age group as well as the top overall female and male winners will receive a prize. Each 5K participant will receive a Halloween Hustle long-sleeve dri-fit shirt and a trick-or-treat bag.The Kid's Dash participants will receive a cotton youth t-shirt, bib, goody bag, and pumpkin. All proceeds will go to Fathers helping Fathers, a charity focused on raising awareness of the importance of the father's role in a child's life.
The Halloween Hustle Race Director Bryan Ganek fully supports the event's contribution to the charity.
"Fathers have a positive influence on their children's lives but they don't always get the recognition they deserve," Ganek said. "Our event is expected to have 1200 participants and will be a great contribution to the cause."
People who are interested in participating in the run can register until Oct. 23 for $40. Registration on the day of the race will be $45. Kid's Dash registration is $15 until Oct. 23, then $20 on the day of the race. All registrations are non-refundable and non-transferable.
Junior Angela Nuccio thinks that the fall events in Palatine for younger kids are great for the family environment.
"My brother is in second grade so he would really like to go to the festivals and dress up to get candy," Nuccio said. "My family is excited for the event too, because we love to hang out and spend quality time."
Palatine will also be hosting a Halloween Party on Saturday, Oct. 31. The event will be located at the Palatine Community Center for children up to 10 years old. The price per child is $5 before 4:00 pm on Oct. 30 or $7 on the day of the event, if available. Parents must be present to supervise their child during the entire party. There will be simple activities in the jack-o-lantern gym for the younger children and more challenging carnival games for the school-age children. The Reptile Education Program "Cold Blooded Creatures," will return this year with Jim Nesci's reptile show at 10:00 am. Also, the Palatine Public Library will accommodate a puppet show for the kids throughout the morning.
Sophomore Nathaniel Lee thinks that these events are perfect for all families.
"I know families that love to go to these events because they're a lot of fun and family-oriented," Lee said.