Cubs clinch playoff berth: the future is now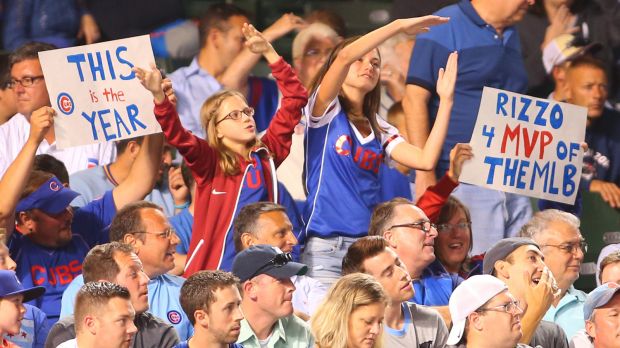 Arvind Sriram, Contributing Writer
September 30, 2015
As of September 26, 2015, the Chicago Cubs have officially clinched a playoff berth and will play meaningful October baseball. No, this is not some cruel joke, the Chicago Cubs will actually have a chance to win the 2015 World Series.
After a successful offseason, which included the acquisitions of ace pitcher Jon Lester, witty and successful manager Joe Maddon, speedy centerfielder Dexter Fowler, solid middle of the rotation Jason Hammel and veteran catcher Miguel Montero. Most importantly, however, the Cubs called up slugger Kris Bryant, who proved to be an elite player. With a veteran rotation and a young and powerful starting lineup, the Cubs were prime for success, but not this early. This year was meant for rebuilding, not dominating.
Maddon, who formerly managed the Rays, is known throughout the baseball world as an interesting manager. With his unorthodox coaching style and a sabermetric- based lineup, Maddon has led the small market Rays to multiple playoff appearance, in addition to a World Series appearance. After opting out of his contract, Madden took advantage of this opportunity by taking his talents to the Windy City to coach a young, up-and-coming Chicago Cubs team with a massive cap room to acquire top notch free agents.
Even though the playoffs were a small possibility this year, Maddon still created an atmosphere where these players can express themselves throughout the 182 game grind. Madden has created this atmosphere so that the players can thrive and play loose even when the game become more serious throughout the later parts of the season.
Before this season, no one really knew who Jake Arrieta was. Before part of a trade that brought talented relief pitcher Pedro Strop to the Cubs in 2013, Arrieta was shaping up to be a bust for the Baltimore Orioles by not living up to his high expectations of a top prospect. With a career 6.13 ERA as an Oriole, no one viewed Arrieta as anything special. After a breakout first season with the Cubs that consisted of a 10-5 record and a 2.53 ERA, many felt that it was a fluke and he will have a down year.
Arrieta proved the doubters wrong with a 21-6 record and a 1.82 ERA as he is a vital part of this rotation that guided them to the playoffs. Arrieta has had many highlights to this season but the one he will remember is when he threw a no-hitter on Aug. 20, 2015. Striking out 12 batters and only allowing two base runners, this was easily his finest performance and this gave momentum to the Cubs. After this game, the Cubs have dominated the opponents as of result to clinching playoff berth.
There are too many questions about this Cubs team. Will they have enough talent and and veteran experience to get past the Pittsburgh Pirates in the Wild Card Game? Can the strikeout-prone lineup manage to get clutch base hits? Will the middle of the rotation pick up the slack after co-aces Lester and Arrieta? Despite these concerns, the Cubs are back in the postseason with World Series hopes alive once again.