Poverty awareness in Palatine
When poverty is commonly associated with third world countries, poverty within Palatine is often forgotten or ignored. With over 9.6% of the population in Palatine under the poverty line, efforts have been made through the Palatine Township Food Pantry and Fremd to give back to the community.
Last year, the social studies department held Poverty Awareness Week to donate cereal boxes to the Palatine Food Pantry and held a special event to recognize the false negative stigma behind the word "poverty." The week began with a cereal drive competition and concluded with museum style exhibits, a documentary, and a Hunger Banquet. The Hunger Banquet's highlight was the meal simulation when students who attended were given proportional meals corresponding to the different socioeconomic statuses. Sophomore Geethu James recognizes the significant impact attending the Poverty Awareness Week's Hunger Banquet had on her.
"I feel like that even taught me a lot about how grateful I should be for what I have," James said. "I always knew that poverty was a real problem, but the simulations put me in another person's shoes."
Along with the eye-opening experience Poverty Awareness Week provided James, junior Yulia Odinokova notes the negative connotations associated with poverty in Palatine and the problems it plays in society.
"Poverty is often associated with dirt, with people who don't care to succeed, with people who lack intellect. All these generalizations are merely stereotypes," Odinokova says. "People living in poverty sometimes can't control their situations and as a society we often forget that."
With several problems with poverty here in our own community, Fremd plans to continue to help out by hosting another Poverty Awareness Week in spring. Along with Fremd's efforts, the Palatine Township Food Pantry holds food drives in order to open up the food pantry to qualifying residents on Mondays and Thursdays. Senior Leonard Lee commends these efforts, but believes more should be done to encourage poverty awareness in Palatine.
"I would be lying if I thought Palatine was perfect," Lee said. "I think we do a lot regarding food pantries and projects like Angel Tree. What I don't like is that not enough people are aware of the poverty around them simply because they can't see it with their own eyes. It should be publicized better."
About the Writer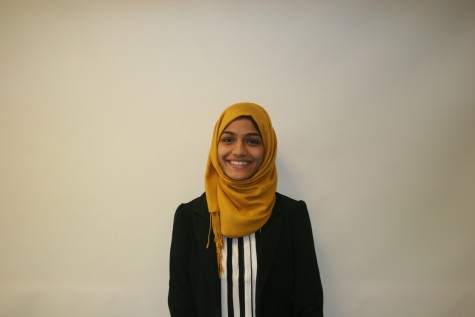 Nabeela Syed, Editor-in-Chief
Nabeela joined the Viking Logue as a sophomore, was a Features editor as a junior and is now in her senior year filling the shoes of Editor-in-Chief alongside...