Rolling Stone's faulty fact-checking ruins journalistic integrity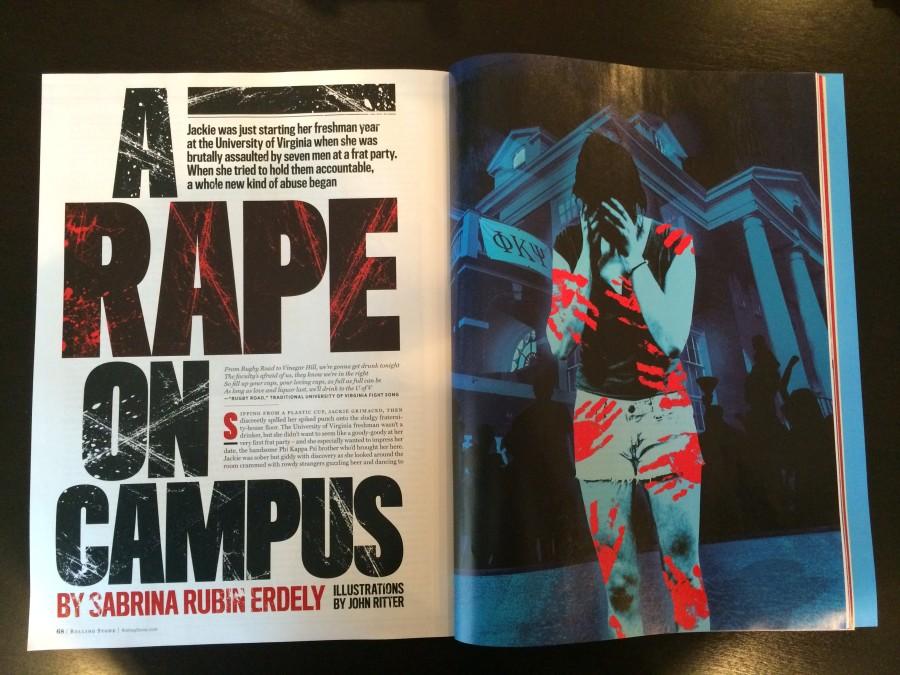 Viking Logue Staff
April 8, 2015
In November of last year, Rolling Stone magazine printed an article detailing the brutal gang rape of a college female at a University of Virginia frat house. Citing the magazine's failure to follow "basic, even routine journalism practice," the Columbia University Graduate School of Journalism released a report this week discrediting the published story. The consequences of the fabricated narrative extend far beyond a heavy blow to Rolling Stone's reputation. The lack of ethical reporting has spurred national scrutiny of sexual assault survivors as well as journalistic integrity.
Rolling Stone's article titled "A Rape on Campus," fails on the foundational level of reporting standards. A journalist's primary purpose is to provide the public with an accurate and fair gathering, reporting and interpretation of the news, according to the Society of Professional Journalists code of ethics. However, in an age where sensationalism and shock value are the ultimate hook for readers, publications must be even more conscious of their work in order to achieve an ethical standard of reporting.
In the case of Rolling Stone, their piece fell into a trap of narrative journalism, ultimately hurting the victims and convoluting the issue the article was intended to shed light on. Writer Sabrina Rubin Erdely aimed to report on a story that would expose the pervasive rape culture on college campuses across the country. In the summer of 2014, she contacted Emily Renda, a University of Virginia alumna and current staff member. A survivor of rape herself, Renda works with the university on issues of sexual assault. Renda then put Erderly into contact with a rising junior, "Jackie," at UVA who had described a brutal attack she suffered at a fraternity party. However, Jackie's narrative proved to be faulty when numerous details could not be confirmed. According the Columbia University report, Rolling Stone was negligent in their "reporting, editing, editorial supervision and fact-checking."
Many worry that the article's consequences will  hurt sexual assault survivors the most and set a dangerous precedent for future cases. The lack of credibility has fueled the claim that campus rape and sexual assault is a fallacy and has added to the stigma associated with survivors. Furthermore, the mistakes in reporting may silence any future victims in fear that they may not be taken seriously or that their words will be incorrectly reported and acted upon.
A news source's primary responsibility is to provide readers with the truth. As a result, journalism often assumes an activist role in today's society, supporting those that seek justice and raising awareness for overlooked issues. However, when media outlets like Rolling Stone print false information, the trust between the publication and audience is severed and the role of the media is questioned. Journalism has the potential to provoke thoughtful discussions and incite social change. News outlets on a local, national or international level must work to report ethically, ensuring readers an accurate interpretation of events while also providing a voice to the voiceless.