BPA members advance to Nationals
Ann Rajan and Emily Yin, Staff Writer and News Editor
March 18, 2015
Business Professionals of America (BPA) members competed at BPA State Feb. 26-28, with sophomore Yulia Odinokova and junior Michael Zhou advancing to Nationals in May. Odinokova placed second in Interview Skills and fourth place in Entrepreneurship, while Zhou placing fourth in Java Programming. BPA is a national organization which aims to give high schoolers hands-on experience in business and administration through competitions and conferences.
In the categories Small Business Management Team, Presentation Management Team, Programming, and Entrepreneurship, 12 students qualified for State. At the regional competition, 22 students entered the additional categories of Website Design Team and Accounting.
BPA coach Jessica Monticello praises the team for their steady improvement.
"Last year we lost a lot of veteran members, but gained a lot of underclassmen," Monticello said. "We're still growing. Compared to last year, we're doing great. We didn't have anyone qualify for Nationals last year, but this year we have two."
In Interview Skills, Odinokova learned how to prepare resumes and interact in face-to-face interviews. She enjoyed taking part in the event and believes that it helped her gain a clearer perspective into the business world.
"This experience has opened many doors for me, supplying the key to qualities companies want and how to make good impressions," Odinokova said. "Not only do I get to work on my professional skills, but I also get to meet new people."
Odinokova is excited for Nationals, especially for the chance to meet other high schoolers passionate about business. She appreciates the driven and welcoming community that BPA competitions provide.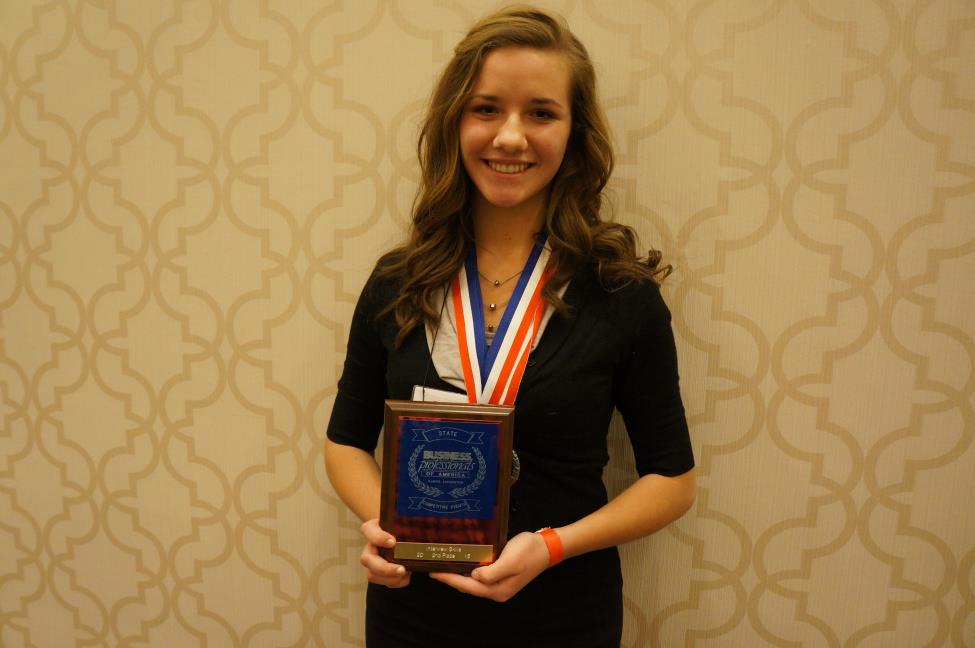 "Meeting new people and networking with them creates a positive atmosphere of successful young adults," Odinokova said. "Especially at Nationals, there will be students from all over the country, and I know we are all there for one purpose-to leave our signature mark on the business world."
Zhou is looking forward to Nationals despite the inconveniences it brings to his Advanced Placement testing schedule.
"BPA nationals this year is going to be during AP week, so I'll have to push a few AP tests back," Zhou said. "But the fact that the competition is a block down from Disney Land makes up for it."
Zhou placed first at Regionals with a perfect score, and at State he decrypted raw data on weather, such as temperature, windchill and precipitation, in various cities. He is considering computer science as a college major.
Juniors Varun Pinto and Ishan Taparia placed in the top ten individuals at State in the Visual Basic/C# Programming category, where they translated English characters to Morse Code. Seniors Nancy Chen, Ryan Chang, and Prak Muppidi and sophomore Andrew Hwang placed fourth at State as a Small Business Management Team. They were directed to expand a fictional event planning company in California to neighboring states.
Taparia enjoys being part of BPA and felt encouraged to pursue his interests in the competition aspect.
"This is my first year. It's small, but I'd say it's pretty fun," Taparia said. There are a lot of nice people, and you get to do any topic you're interested in."