Palatine hosts local Polar Plunge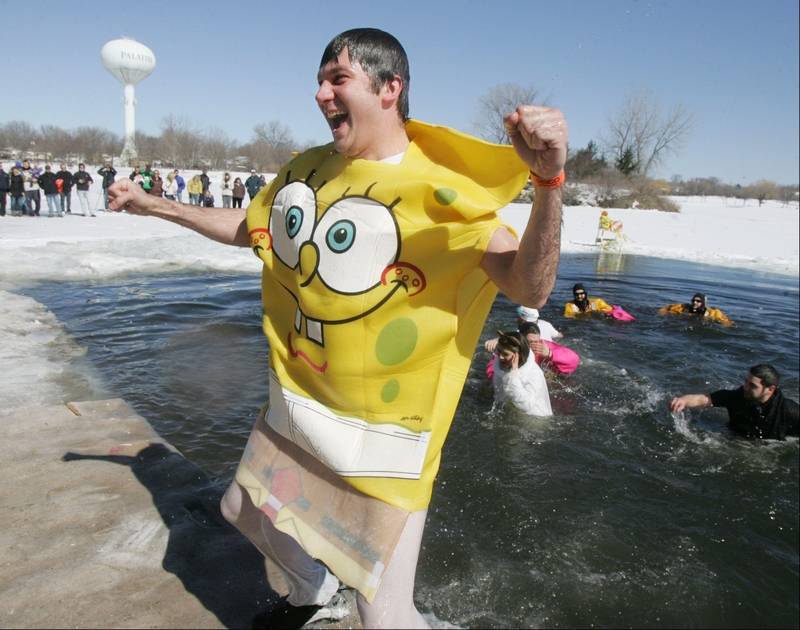 Jessica Kim, Staff Writer
March 18, 2015
Most people would avoid jumping into frigid water in 25 degree weather, except for the 381 participants in the Palatine Polar Plunge, who braved the plunge at Twin Lakes on March 1 as a unique way to support the Illinois Special Olympics.
Participants jumped into the icy lake as individuals or as teams. They were required to raise a minimum of $75 in order to take part as individuals or in teams. Many plunged in creative costumes, with wetsuits prohibited.
The plunge, which includes handling immersion in cold water for several minutes, is a small attempt in understanding students with disabilities' unique difficulties.
Special education teacher Heather Harkins, who participated in last year's Polar Plunge, believes that the event is a meaningful way to raise awareness.
"You are freezing for a reason," Harkins said.  "It helps you learn what students with disabilities are going through."
Palatine is one of 21 locations in Illinois that hosts the Polar Plunge, which was founded in 1999. Almost every state in the United States hosts a Polar Plunge for Special Olympics, and several countries support Special Olympics through this event as well.
This was Palatine's ninth year of hosting the event and the participants raised $109, 613, almost $5,000 more than last year's total, and about $75,000 more than the first Illinois Polar Plunge at Lake Bluff.
Junior Vicki Klanang, a participant of this year's Polar Plunge, notes that the Polar Plunge gives a wide range of citizens an engaging, yet safe opportunity to give back to the community.
"Anyone who is physically able can really participate in the plunge," Klanang said. "It's safe and and a lot of fun."
Chicago hosted its 15th annual Polar Plunge on March 1 as well. More than 4,500 plungers, along with celebrities Lady Gaga and Vince Vaughn, raised over $1.1 million.
Altogether, the state of Illinois raised more than $2.1 million  with the help of 7,300 volunteers. Over the course of 16 years, 47,000 people have taken part in the Polar Plunge and have raised $12.3 million. The first Polar Plunge was held at Lake Bluff in 1999, raising $34,000.
Officially called the The Law Enforcement Torch Run Polar Plunge, the event is sponsored by The Law Enforcement Torch Run, another event to raise awareness for Special Olympics. During this event, Illinois officers run a 1,500 mile relay across the state while carrying a torch called the Flame of Hope, and finish at the opening ceremonies of the Special Olympics Illinois Summer Games.
Jeff Henson and Joe Pena, two Special Olympics staff members, along with Tom Reasoner, former Illinois Law Enforcement Torch Run Director, founded the Polar Plunge for Illinois as a fun way to involve law enforcement members and the community to support Special Olympics athletes.
Over the years, the Polar Plunge has spread to 21 locations in Illinois.
Director of Communications and Publications for Special Olympics Illinois Michele Evans tells how the Polar Plunge has changed over time.
"Originally, most of the Plungers were law enforcement members, but we've expanded to include more high schools, universities and community groups," Evans said. "That was one of the goals when we first began the Plunges – to have a way for law enforcement and the community to join together to support the organization and athletes."