Group Interpretation and Contest Play prepare for sectionals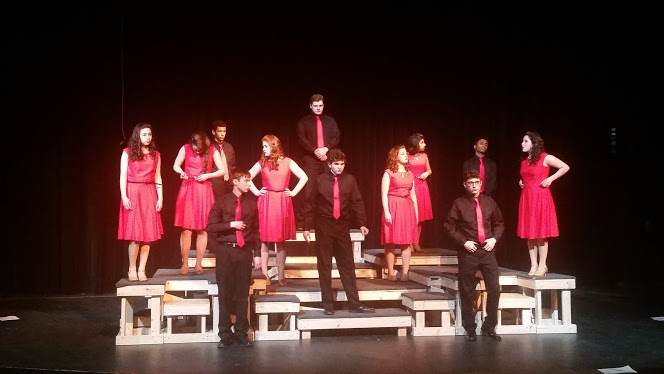 Maggie Quesse, Staff Writer
March 18, 2015
GI/CP, otherwise known as Group Interpretation, and Contest Play are academic teams that compete in annual IHSA competition. They are two separate theatrical productions which both have their own set of rules to follow. This year Fremd will present "Ring Round the Moon" for Contest Play and "The Man Who Broke the Monte Carlo" for Group Interpretation.
This year's Contest Play, "Ring Round the Moon," centers on the engagement of Diana Messerschmann and timid twin Frederic. Hugo, Frederic's twin, feels he must find a way to break off his engagement by having Frederic fall in love with the dancer Isabelle.
English teacher Marilyn Berdick, director of Contest Play, is pleased with how production is going.
"I am very proud of our students working on Contest Play so far.  We are doing a challenging play this year, and the cast is doing a great job of working hard to make this play come to life for the audience," Berdick said. "The crews have been hard at work behind the scenes, helping on set building and in the tech areas as well.  I know we are on our way to having a great show."
Group Interpretation's production, "The Man Who Broke the Monte Carlo," centers on Harry Witherspoon, who learns of his dead uncle, Anthony Hendon, whose last request is for his nephew to cart his dead body around on a vacation to Monte Carlo in order to receive his inheritance of six million dollars. But Harry faces competition in the form of Annabel Glick, a representative from his uncle's favorite charity. This production in particular can be hard to pull off as there are no props, no costumes, and no set.
Despite these differences, Will Helgren, who is acting in the production, says that it is all coming together smoothly.
"For this year it's been a lot of hard work but it's definitely been worth it, 100%," Helgren said.  "The best part has been whenever we as a cast have been able to have an 'ah-ha' moment together on stage when something works. GI is really different than any other theatre production where every person is on stage the whole time and since we all need to be there it's been a lot of work to get us to all be on the same page and get everything to work perfectly but the best moments are when it all comes together."
The pressure may be on, but confidence is in the air.
"I believe that the judges will be really fair and impartial.They always are.  As long as we go out and perform our best and leave it on the stage I really think that both shows, GI and Contest Play, have a really good chance of placing high at sectionals," Helgren said.
GI/CP will present each production on March 18-19 for parents and English classes.