Boys swimming takes third at sectionals
The boys swimming team competed in the IHSA sectional competition at Barrington High School on Feb. 21 and took third. Stevenson captured first place and moved on to state, leaving Barrington our Vikings behind. History repeated itself Saturday, as Fremd finished third for the third year in a row and all of Fremd's individuals improved on their times. This match concluded a solid season overall for boys swimming and diving.
Head coach Kristen Newby weighed in on the success of their season.
"We had really big wins against Palatine and Barrington throughout the dual-meet season, and that is something that was definitely worked for very hard, and impressive on all feats," Newby said.
She also commended swimmers on their efforts this season.
"These kids have been really determined and very motivated. With a bunch of really good senior leaders, these kids have been able to do things no one expected them to do," said Newby.
Freshman Alex Schillinger,  who placed ninth out of 23 in the 100 yard breaststroke event, praised the helpfulness of the team throughout the season.
"Both the coaching staff and the swimmers were entirely supportive of each other and when we had bad days, someone was always there to bring us back to the reality of our exciting and successful season," Schillinger said.
The Vikings continued their progress last Saturday, winning one event and having students place well in diving, as well as seeing widespread individual success.  Seniors Roshan Rajan and Austin Yurasek teamed up with junior Kenny Benjamin and sophomore Nick Nevins to win the 200-yard Freestyle relay. Their time of 1:27.47 bested McHenry by a close one second. Also, freshman Zach Mega and junior Chase Jauch finished second and third in the diving competition with scores of 435 and 415 points, respectively. Yurasek, also swam well individually, finishing third in 100-yard breaststroke, only two seconds behind the top swimmer. In addition to these accomplishments, Fremd narrowly missed winning the 200 medley relay.
These achievements as well as the team in general pleased swimmers like Schillinger.
"This sectionals was a great stepping stone for the future and a fantastic way to begin to close the season," Schillinger said.
Newby also attested to the success of the entire team.
"We had a very tremendous day. We left the sectional with 100% lifetime best times. To be able to go in and do that is actually pretty rare," Newby said.
Overall, Saturday was a good day for Fremd swimming, fueled by lots of hard work, and also some team spirit — mainly hair color changes by many of the swimmers in the program.
So, what does this mean for boys swimming looking forward to the next few years? With the majority of their sectional competitors being underclassmen, there is lots of time and room for improvement. According to Newby, the future looks very bright for the Vikings.
"We look like we're going to be a very strong team. We are going to be bringing a lot to the MSL in the next couple of years," Newby said.
About the Writer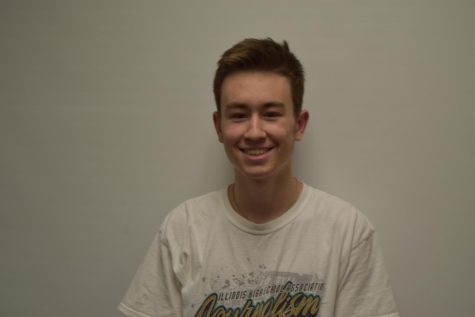 Tim Moran, Sports Editor
Tim is a third year sportswriter for the Viking Logue. He has competed at a regional competition and placed fourth out of 12. His main activity at Fremd...