Girls gymnastics continues dynasty with third place finish at state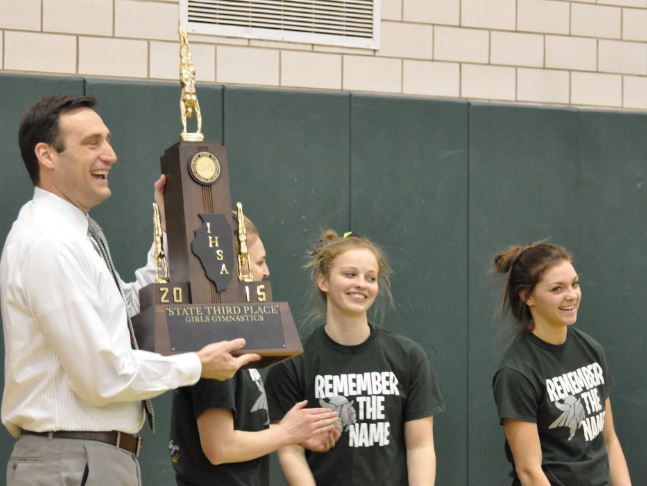 Matt Nicholson, Lead Sports Editor
February 25, 2015
The girls gymnastics team continued their dynasty with a third place finish at the IHSA State meet held at Palatine High School on Feb. 20 and 21. This is the third consecutive third place finish with a score of 146.6250 for Fremd and the 23rd consecutive time that the team qualified for and competed at the state meet.
The Vikings had no trouble all season, going undefeated in meets all regular season and taking home first place finishes in the both the Downers Grove Invite and Fremd Invite as part of a season where they claimed their 23rd regional championship in a row.
Head coach Elise Ference explains the commitment each gymnast makes to be a part of the long standing tradition of success.
"This becomes their life after school," Ference said. "Gymnastics gives these girls a beatdown — by the end of the season they are dealing with so much pain. The seniors take the girls by the hand and walk with them, talk with them and work with them through their hard times because in the end its worth it."
In October, the team lost two juniors, Maggie Betti and Lisa Radochonski, for the entire year due to injuries, yet the Vikings were able to rely on their depth to not only return to form, but to also continue to improve.
Senior Sydney Plichta, a four-time state qualifier, details the mentality that enables the team to be perennial contenders.
"My freshman year, we didn't place at state so I didn't have that taste of success until sophomore year," Plichta said. "Once you have experienced it, you don't want to let it go, so you just want to push yourself even harder."
Fremd started Friday night at vault, where senior Chrissy Radochonski and junior Carly DeFilippo earned scores of 9.5750 and 9.5250, respectively. The team then rotated to bars where Plichta and Emily Neal posted scores of 9.2000 and 9.0000, to give the Vikings second place through the first to events with a team score of 74.1250.
On balance beam, Fremd continued their excellent night with Plichta scoring 9.0500 and Radochonski scoring 8.5250. In the floor exercise, the final event of the evening, Radochonski earned a 9.5250.
On Saturday, both DeFilippo and Radochonski competed in the finals for individual events. In vault, Defilippo earned a twelfth place finish with a score of 9.3750 and Radochonski placed tenth with a score of 9.4250. Radochonski ended the night for Fremd with a score of 9.0500 in floor exercise to claim another tenth place finish.
Ference highlights the phenomenal effort that the team showed to earn their third place finish.
"They had the meet of their careers at state," Ference said. "We went 19 for 20 at state and we counted no falls. And in my three years as head coach and four year there, we haven't been able to do that before."
Experience should not be an issue for the team next season, which currently has seven juniors — four of which have been on varsity since their freshman year — as they look to claim the first state championship since 2008.
Ference is confident that the team has the potential to stand atop the podium for years to come after a string of competitive performances at the state meet.
"Unfortunately this year they did their job and the scores just did not reflect that," Ference said. "As far as championships go, there mentality walking out of that meet on Friday night was what it will take to be a championship team. They want it and they work for it."