As "Breaking Bad" breaks off, you "Better Call Saul"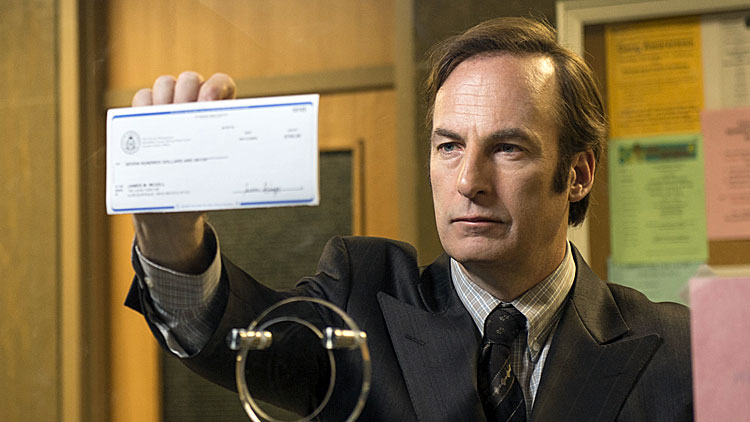 Emily Schulz, Staff Writer
February 25, 2015
The world can't get enough of AMC's "Breaking Bad" and its complicated characters. After the series finale, creator Vince Gilligan and producer Peter Gould created a spinoff series named "Better Call Saul," which follows the life of criminal lawyer, Saul Goodman, played by Bob Odenkirk.
Fans of "Breaking Bad" will remember that the first time main characters Walter White and Jesse Pinkman meet the corrupt criminal lawyer is in the show's second season, in an episode entitled,"Better Call Saul." Beginning in its third season, Saul becomes a part of the main cast. Now fans will get to find out the backstory of the eccentric lawyer seven years before he crosses paths with Walter White.
The show's first episode, "Uno," reveals the struggling lawyer before adopting "Saul Goodman," going by his birth name James McGill who runs his clientless law firm in the boiler room of a nail salon. McGill's charisma and motivation are unwavering compared to his later alias, but he is having a hard time establishing any name when the only cases he gets are young defendants whose crimes are caught on tape. In need of money, he slides back to his shady "slip and fall" tricks and, thus, begins the transformation of Saul Goodman, where the line of criminal and criminal lawyer is forever blurred.
In an interview with Screen Rant, Odenkirk said, "Here's what I told Vince and Peter–Pete Gould is also writing that show–we're gonna make it fresh. It's not gonna be 'Breaking Bad' 2.0 or whatever. It's a different show and it's gonna have a different energy and we're not gonna try to just extend 'Breaking Bad.' That can't be done."
Odenkirk's "Breaking Bad" co-star Jonathan Banks will be playing the younger version of his "Breaking Bad" character, Mike Ehrmantraut, Saul's private investigator. AMC has released other guest "Breaking Bad" character reprisals including Raymond Cruz as Tuco Salamanca and his henchmen played by Cesar Garcia and Jesus Payan. Fans will spot these familiar faces in the first two episodes.
In an interview with Collider.com, Gould said that he wanted a mix of old and new with the shows-"These are all characters that we love. There's so much more to say about Gus, and we certainly love Giancarlo. Having Said that, we're trying to make something that stands on its own that has entertainment value, and that's not just seeing a series of old favorites. It's not the series equivalent of a clip show. So, we're trying to balance these things out," Gould said.
The spinoff's debut on Feb. 8 amassed 6.9 million views, making "Better Call Saul" cable's highest-rated series premiere ever. Netflix has already decided to add it after the finale of the first season, especially since a second season of thirteen episodes has already been ordered by AMC.