Fremd welcomes honored guests for Writer's Week XXI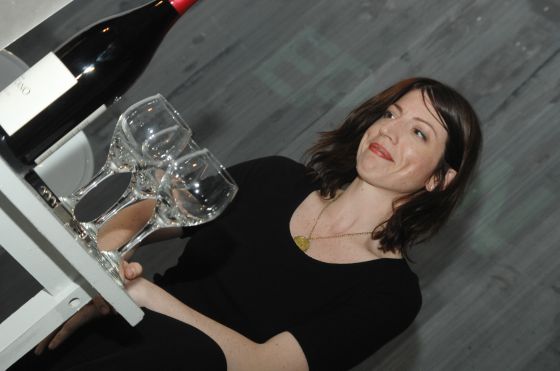 Pavel Warzecha and Dominique Pasek
February 23, 2015
The twenty-one year tradition of Writers Week showcases writing of students, teachers, and big name published authors, continues from February 23-27. For five days, students can watch honored guests read their works in the Kolze auditorium. While many prestigious guests are returning again this year to perform, there are also numerous first-time speakers sharing their pieces.
Russell Anderson and Gina Enk of the English department are largely responsible for organizing Writers Week. Anderson explains the range of genres considered when inviting guests.
"We've had so many different guests take the Writers Week stage over the past 20 years," Anderson said. "Musicians, actors, bloggers, playwrights, stand-up comedians, improv troupes, journalists, reporters, etc. Good writing takes on many different forms, and we want to incorporate and appreciate as many of those forms as possible."
One of the writers speaking this year is AJ Pine, former Fremd teacher, author of romance novel "If Only", a romance novel about a girl falling in love while spending a semester in Europe. Much of the book incorporates events from Pine's life, so readers get a taste of the author's experiences. Specifically, she incorporates some of her experiences studying overseas in Scotland into the novel.  Pine, who performs on Friday, lives close to Chicago with her family, and loves reading just as much as writing. Just like her readers, she enjoys romantic tales. This is her first time speaking at the event.
A.S. King, also set to perform on Friday, is well known for her young adult novels, specifically "Reality Boy" and "Ask the Passengers". Her novels tend to fall under the realistic fiction genre, and they often revolve around a character with dark pasts. She has received many recognitions and awards, such as the New York Times Editor's Choice and LA Times Book Prize in 2013.
Authors usually talk about their books, but Anderson recalls how there are many unique ways in presenting a piece and how writers in the past have used unconventional methods to share their presentations.
"It really varies depending on who's speaking," Anderson said. "Sometimes they read excerpts from their novels. Sometimes they talk about getting published. Sometimes they talk about important experiences in their lives that revolve around writing (or that led them to writing). Sometimes, in the case of Joelle Charbanneau last year, they sing a little opera. It really just depends."
Sierra DeMulder is one of Writers Week's returning guests. DeMulder's passionate and sassy slam poetry has gained her plenty of fans at school. In the past, she has shared her pieces on topics such as eating disorders and controversial messages in famous artist's songs.
Senior Zoe Ivanov remembers DeMulder's performance last year, and describes why she was touched by her performance.
"She is honest in her writing," Ivanov said. "When she speaks, I can see her words come to life and I imagine myself being in her place and experiencing those same things that she has, but with my own interpretation to it."
Mary Fons, another returning guest, identifies as a quilter, blogger, and writer. She is known for her eccentric style when it comes to her acts, whether it be setting fire to poems, displaying her own homemade quilts, and even calling people on her phone while on stage. This year, she brought back her "Kissing Piece," reading well-known poems and new works.
Mary Fons offers a look at how to create a perfect presentation in her eyes.
"A Writer's Week performance should be well thought-out, entertaining, and not too preachy or teachy. Or boring," Fons said. "I think a good Writers Week piece is something that connects."
No matter who is presenting, however, Anderson believes each speaker's performance will be engaging.
"Knowing these speakers, I expect to be challenged to think differently and inspired to pick up my pen and write," Anderson said. "I have so much respect and admiration for their incredible talents."