Obama, your domestic agenda is ambitious, but what about foreign policy?
Wall Street Journal
President Barack Obama rolled out a story of recovery in the State of the Union address last Tuesday, declaring America ready to "turn the page" on economic hardships and war and announcing a sprawling domestic agenda aimed to revitalize the middle class.
Obama proclaimed America in an economic turnaround with bright times ahead.
"America, for all that we've endured; for all the grit and and hard work required to come back; for all the tasks that lie ahead. know this: The shadow of crisis has passed, and the state of the union is strong," Obama said.
Upbeat and confident, Obama was not the hardened, weary president America saw three months ago as his party lost the Senate in midterm elections. He declared 2014 a "breakthrough year for America," marking a far cry from his usual asking for patience to bring America to better times.
Obama presented ambitious domestic proposals: free community college, expanded child care tax benefits up to $3,000 for the oldest child, a new $500 tax credit for two-income families and paid leave, are all good news for the middle class. Self-declaring his proposals "middle class economics," Obama hopes that these programs will redirect money to the middle class and allow it to participate more in the rising economy, a shift from previous focus on deficit reduction.
To pay for the $320 billion needed for the changes, Obama wants to increase taxes on investment income, which have a lower tax than general income and mostly concern wealthy Americans. Obama is calling for an increase in capital gains to 28 percent on couples earning more than $500,000, directly confronting Republican ideology, and lobbying law-makers to close a trust-fund loophole that allows gains on inherited funds to go un-taxed.
Obama's domestic focus was also evident by the guests invited to listen to the address from the first lady's box. Malik Bryant, a thirteen-year-old boy from the South Side of Chicago who wrote to Santa asking safety in his neighborhood, was among the invitees.
It's time for a reality check, though. Obama has little influence over implementing his wide-reaching domestic agenda, with Republicans powering Congress and sharing little common ground with him regarding domestic policy. Obama only holds veto power and limited executive action, and his most of his proposals are as good as conversation starters.
The heavily inward address is also alarming in context of the escalated terrorism abroad. Obama only mentioned the attack on the French satirical paper Charlie Hebdo in passing, and vaguely described how America would combat global terrorism.
"We stand united with people who have been targeted by terrorists-from a school in Pakistan to the streets of Paris," Obama said, but only remained on the topic long enough to say that he would "continue to hunt down terrorists and dismantle their networks."
The sudden explosion of homegrown jihadists and the recent terror attacks in Paris, Brussels, Canada, and Australia all illustrate the changing face of terrorism. This is a terrible time for Obama to avert his attention. The Gallup Poll reports that 40 percent of Americans are very or somewhat worried that they or a family member will become a victim of terrorism-a slightly higher percentage than when Obama took office in 2009.
The domestic concern with terrorism is notable, especially since Americans are less likely to be subject to a terror attack than being struck by lightning. But with the high publicity overseas, Americans are rightly concerned. As Commander in Chief, Obama has great influence over America's reaction, and if he were to give a frank account of the nation's situation, this would be reassuring.
Obama's domestic bravado greatly contrasted with his vagueness on foreign affairs, and he suggests that foreign policy is less of a priority for his administration. Obama claims to be willing to work with Republicans, but his address doesn't credit Congress with any accomplishments, but rather points out flaws in its workings and presents domestic proposals that Congress will most likely shoot down. Of course, the houses are making it hard to be gracious though; when Obama noted that he has "no campaigns left to run," some Republicans cheered. Obama can't be criticized for throwing back his own zinger, "I know, because I won both of them." But however far off, a close and cooperating government with a clear foreign agenda and a realistic domestic one would reassure Americans.
About the Contributor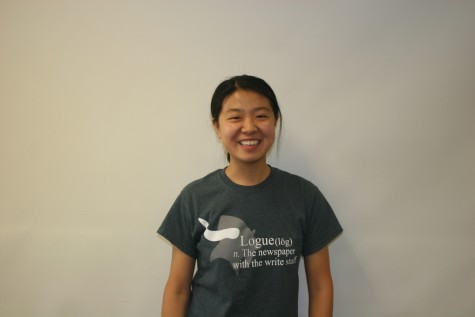 Emily Yin, News Editor
Heya, happy to find you perusing the Viking Logue!

My name's Emily. I think in English, but occasionally dream in a scrappy Mandarin. I smile when...