To infinity and abroad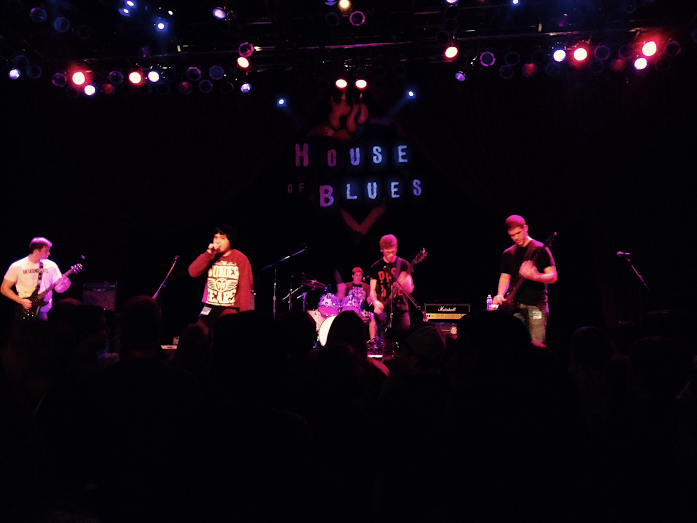 Margaret Geist, A&E Editor
January 28, 2015
Consisting of current Fremd students Laurence Bactat, Peyton Roberts, Robert Jacques, Rolling Meadows High School student Danny Harris and former Fremd student Miles Schuett, A Semester Abroad (ASA) has accomplished levels of success that most other local bands are still trying to achieve. Formed in 2013, ASA played their first show to twenty people at Penny Road Pub in October. With 225 Twitter followers and 250 likes on their Facebook page, ASA's popularity has certainly grown in the past year and a half.
Holding weekly band practices in Schuett's basement on Saturday mornings and Wednesday afternoons, the band is rehearsing for upcoming shows as well as recording new material for their next EP, slated to come out next month.
Their Bandcamp page features one acoustic track, a single from their EP "Wasting Time," and the EP "Wasting Time" itself, which was uploaded on the page Sept. 12 and features six self-produced and self-written tracks, with Bactat, Schuett and Roberts writing all the music and lyrics, and using Protools software to create the music.
Just like any local band, A Semester Abroad plays most gigs at local bars. ASA has played the Penny Road Pub in Barrington, Pub Yahoo in Carol Stream and, most recently, the House of Blues in Chicago. The House of Blues is famous for starting the careers of many popular musicians and is a huge step for small time bands like ASA. In order to book shows like this, the band contacts promoters via Facebook and networks with bands they've performed with in order to book shows in the future.
"We try to keep in touch and book shows with each other whether it's in a bar or a DIY show in someone's basement," Roberts said.
As with most up and coming acts, exposure is something difficult to gain. However, ASA is definitely on to something. With poignant angsty lyrics and a sound of organized noise, it's no wonder they've scored gigs with notable acts and performed in the world famous House of Blues.
Despite their success for a high school band, the members of A Semester Abroad are still music lovers at their core.
Roberts has always loved music and he thinks his passion for it is part of what makes his role in the band so enjoyable.
"Music moved me since I started getting exposed to a lot more genres in junior high," Roberts said. "Being able to express myself and create songs that I really enjoy with a bunch of friends is really an amazing experience. It's one of those things for me where we could spend all day working at writing and recording and it still barely feels like 'working.
Bactat shares Roberts' same passion and gratitude toward music.
"The band has been around for a little while now but it feels like we just started. Playing shows is one of my favorite things to do, and we've been able to do so much more than I ever expected already," Bactat said.
Next up for A Semester Abroad? A show with Belmont and Mishandled, two other Chicago-based bands, on Feb. 20 at Bada Brew Bar and Grill in Crest Hill.
The band is also currently working on an acoustic EP which Roberts says will hopefully be out next month. As for the future of the band members themselves?
Roberts says the members of ASA have its best interests in mind.
"Most of us plan on staying nearby for school so we can continue to play shows and write music. As far as what we'd like to achieve, I feel, for me, I just want to keep putting out music that we feel represents us and keeps getting better every release," Roberts said.
Where passion and talent meet, A Semester Abroad thrives. Despite their scattered pieces, ASA's musical mosaic is definitely headed for bigger stages soon.
"Hopefully we can keep this up for as long as we can," Bactat said.
For more information about A Semester Abroad, check out their Bandcamp