Girls basketball rolls early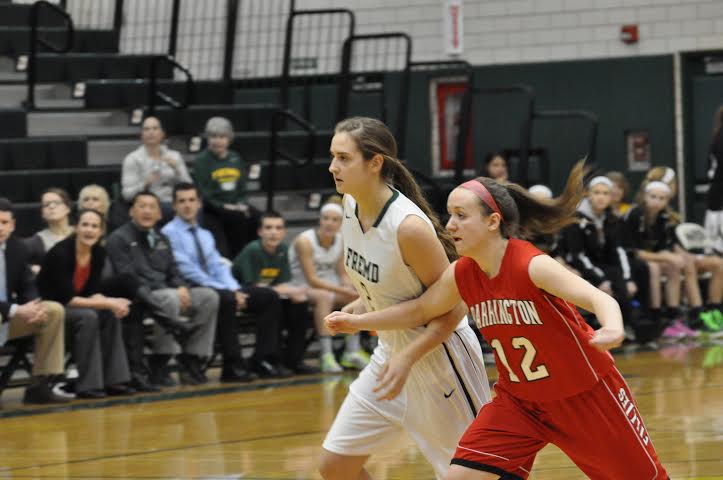 Matt Nicholson, Lead Sports Editor
January 28, 2015
Ranked 23rd in the nation by espn.com, the girls basketball team won in convincing fashion over Mid Suburban League rival Barrington on Dec. 8 to improve their record to 8-1. The Vikings dominated every aspect of the game, outscoring the Broncos in each quarter and eventually winning by a score of 71-36.
The Vikings got off to an early lead in the first quarter with the help of junior forward Bryana Hopkins, who was fouled on a buzzer beater and hit two of three free throws to give the Vikings a 20-8 lead.
In the second quarter, the team kept up the defensive pressure and scored six points in transition, including baskets from junior guards Erin Lenahan and Brianna Lewis, as they went on a 15-0 run. Barrington finally stopped the bleeding with a three with 4:42 left in the second quarter to cut the lead to 22. The two teams then traded baskets and both went into slight shooting slumps as the first half ended, with Fremd leading 40-15.
Head coach David Yates has confidence that any single player on the team has to ability to contribute at a high level when the team is executing in transition.
"When this team can get up and down and get the fast break going, we have a lot of kids that can pass the ball and a lot of kids that can finish," Yates said.
In the second half, the Vikings pulled away as more of the team got involved in the scoring. Junior guard Amanda McCartney added a quick three threes off the bench to provide a spark for the team. Senior guard and Duke University commit Haley Gorecki scored eight second-half points and lead all scorers with 23 points.
While the Vikings excelled in this contest, Yates identifies consistency as an aspect that the team can improve on.
"We learned a week ago that we need to come out ready to play every game," Yates said. "That has been a focus since we lost to Hersey. You can't just show up in a game — you have to go out and work hard every single minute you are on the floor. Everybody wants to measure themselves against us so we can't just show up."
Following last year's regional championship and a promising start, Yates explains his expectations for the remainder of the season.
"Our goals are always really simple: win our side of the MSL, win the league and obviously to go as far as we can in state," Yates said. "I dont want to think about that right now. I want our kids focusing on getting better everyday and if we do that all the other stuff will follow."
The girls basketball team will compete at the Nike Tournament of Champions in Phoenix, AZ on Dec. 18.