Fremd's best talent dazzles at V Show 2014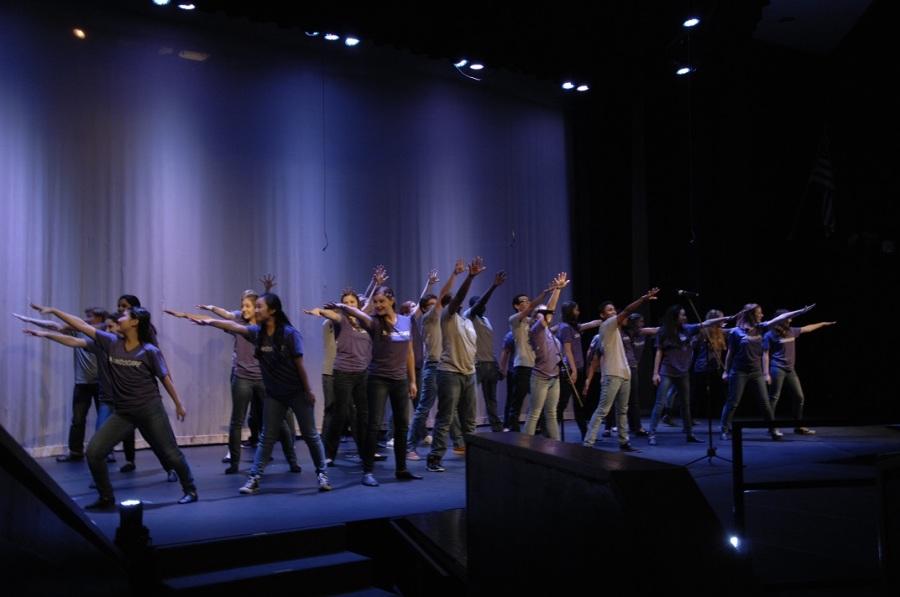 Margaret Geist, A&E Editor
December 17, 2014
This year's V Show was chock full of exciting and engaging acts ranging from a capella groups to a magician. Emceed by seniors Max Jahns and Dannika Anderson, the 2014 V Show had audiences roaring with laughter and clapping in delight.
Soundscape's "Life Is A Highway" seemed more like a group jam session than a show choir performance. Each member seemed to be having the time of his or her life up on stage, clapping and dancing along. Dennis Tolbert and Allison Gile blew the audience away with their own solos, filled with peppy spunk.
Soundscape member Kyle Price credits Christina Virgilio for the success of Soundscape.
"I joined Soundscape because we have a new choir director this year and she's big on show choir and she brought in all these new ideas and she's super cool," Price said.
Emilie Kouatchou and Annie Zheng had audiences roaring with laughter from the beginning of their performance "Random Black Girl," a song with a show tune style rhythm combined with Kouatchou's powerful voice, made for a Broadway style treat. Zheng's piano accompaniment also added to this declaration of war on racial stereotypes.
"I saw one of my favorite singers (Patina Miller) sing the song and I absolutely fell in love with it. I think the message that the song imposes is something that people are not comfortable talking about, and that's what makes it so fun to perform," Kouatchou said.
Magician Michaela Pullara stunned with her "Imagication" show. By selecting a random audience member and throwing her an imaginary box of cards, Pullara asked the audience member to select a card and keep it in her head. She then asked her to put that card back in the stack upside down and throw the imaginary pack of cards back. Pullara caught the pack and pulled an actual pack of cards out of her back pocket. She opened up the pack, and pointed out that one card facing the opposite way and asked the audience member if the imaginary card she had selected and folded upside down was the ace of diamonds. The audience member nodded and Pullara showed the audience her physical card, the ace of diamonds. Pullara received uproarious applause for her astounding card trick, as she rightfully should have.
Senior slam trio Madisen Hursey, Jess Peterson and Annie Victor took on Writer's Week guest Sierra DeMulder's "Today Means Amen", a powerful and potent poem about the struggles of life.
"We picked 'Today Means Amen' because it was a poem that spoke to each of us a certain way and one that we felt a large portion of the audience would be able to connect to. We didn't want to just get up there and say something that wouldn't have meaning or leave an impact," Peterson said.
Emcees Max Jahns and Dannika Andersen had the audience roaring with laughter with their honest and satirical portraits of Fremd High School. When asked about his V Show experience, Jahns said, "I absolutely loved it. All the performances were amazing. Every night was different but the crowd has been consistently awesome and I wouldn't trade the experience for the world. I couldn't have asked for a better set of people to work with, a better audience."
Performers and emcees alike  agree that the V Show is a once in a lifetime opportunity. Kouatchou says she loves V Show, "because it's a creative outlet where people can say and do things that they can't do all the time." Peterson agrees saying, "It's a bunch of students who may not be well known but have hobbies or talents that they get to share with the school. There's a tangible audience that can validate something you're passionate about, and that's basically the best thing ever for secret hobbies and talents."