Girls swimming and diving earns sixth place at state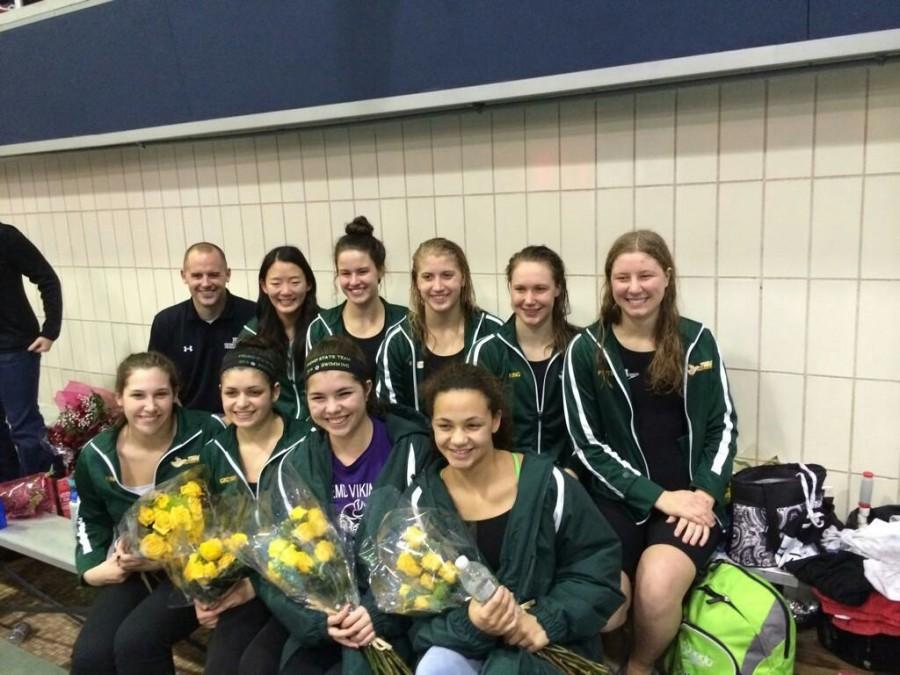 Matt Nicholson, Lead Sports Editor
November 25, 2014
On Nov. 21 and 22, the girls swimming and diving team competed at the IHSA state meet and took home sixth place, Fremd's best ever finish. The highest finish before this was 14th in 1996. In the meet, the Vikings set 10 new school record out of the twelve total 12 events.
Head coach Andrew Kittrell credits the team's success to a commitment by each individual to superordinate goals.
"This is about the kids being a part of something larger than themselves," Kittrell said. "We have kids who are incredibly talented and chose to be on multiple relays to score maximum points and we also had kids sacrifice some of their best events in some of the most important meets of the season because thats it took to win. These are naturally things that they do because they will do whatever they have to to help the team."
The senior class is accustomed to success in recent years. As sophomores, they ended a 25 year drought without a Mid Suburban League championship and this season the helped the team win their third in a row.
Senior diver Sarah McTague earned eleventh place in the diving competition, contributing to point Fremd's total on the meet. Mctague explains the role of the seniors as motivators for the rest of the team.
"Not only do we set a good example for the younger kids, but we spread the sense of team unity, which carries over to our collective performance," McTague said.
Fremd's top finishes in the state meet was secured by the 200 yard medley team of seniors Grace Kneller, Loretta Stelnicki and Saki Takumiya as well as junior Grace Gryzbek.
McTague describes the team's mood during the meet.
"The preliminaries started off very chaotic and nerve wracking, but it was also very exciting," McTague said. "As our teams started qualifying for the finals, we settled down and started having a lot of fun."
Performances instrumental to the Vikings success include the relay team of Gryzbek, senior Erica King, Kneller and Stelnicki  with a seventh place finish in the 200 yard freestyle relay. King added a ninth place finish in both the 200 and 500 yard freestyles and Kneller helped with a twelfth place finish of her own in the 100 yard freestyle, rounding out the teams score of 57 points.
Kittrell explains how the team's growth throughout the season contributed to their postseason success.
"If you would have asked me three months ago, I wouldn't be sure if our relay would be able to get to the state meet, but now I think we should be able to send two, maybe even three," Kittrell said. "These young kids have taken a huge step forward and I am not that would have been possible if they hadn't been able to see it in front of them."