KU protesters bring light to campus rape culture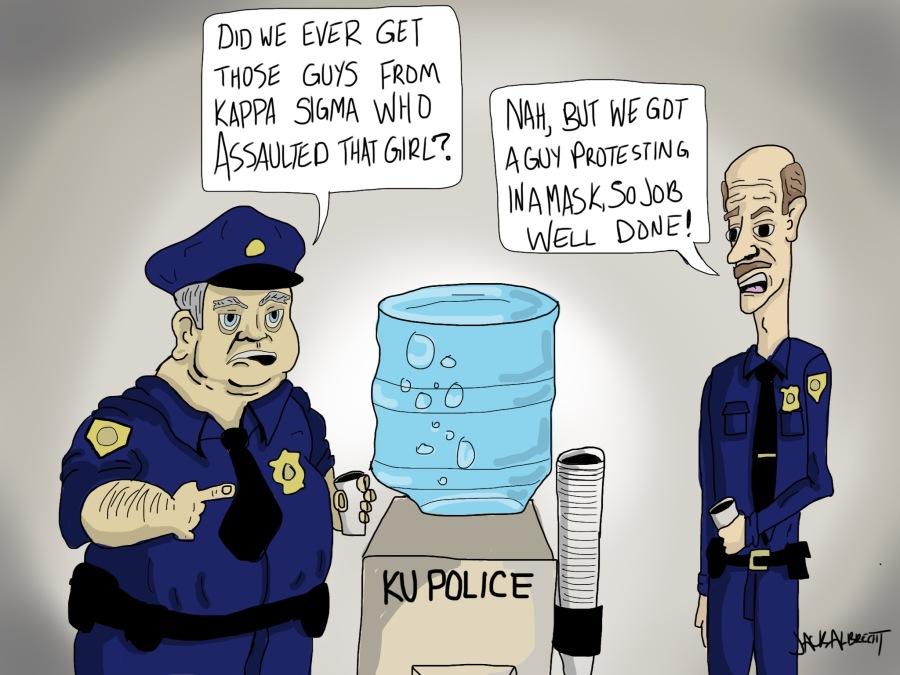 Viking Logue Staff
November 25, 2014
Police arrested masked men for disrupting University of Kansas classrooms on Nov. 5. According to campus police, the men were unarmed students wearing Guy Fawkes masks, protesting the university's handling of sexual assault allegations against Kappa Sigma fraternity. according to the Department of Education, the fraternity, which has been suspended, is one of over 50 universities currently under investigation for sexual assault claims.
The KU students' masked protest brings awareness to the issue of sexual assault. In the past six months, rape allegations have emerged from campuses such as Brown University, Columbia University and most recently University of Virginia, drawing attention to the rape culture that permeates college campuses.
According to a 2008 report by the Bureau of Justice Statistics, over 75 percent of those who reported a rape are under the age of 25 and more than 25 percent are between the ages of 18 to 25.
Much of the controversy surrounding these assaults is the responses of university officials. In many cases, victims are encouraged to remain silent in order to prevent negative attention to the university. Additionally, academic disciplinary offices are often ill-equipped to address issues like sexual assault and are unsure how to proceed with legal action. Schools like the University of Virginia, however, have directly addressed the issue by banning fraternities on campus in response to the alleged gang rape of a freshman student.
In efforts to end sexual violence on college campuses, students and faculty members should spread awareness and promote safe social environments for both female and male students. Universities and colleges should not sacrifice the safety of their students to protect their reputation, but instead ensure justice for victims. Additionally, protesting students should work thoughtfully and civilly to effectively initiate change, rather than threaten authority figures. By working together, university administrators, students and lawmakers can shift the manner in which sexual assault is viewed and dealt with in academic settings.