One Direction grows up in "Four"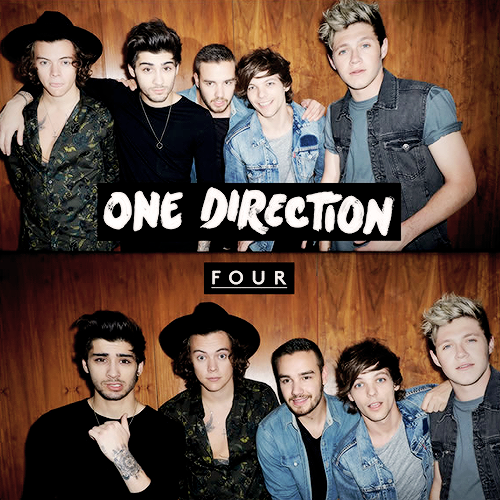 Four years after Simon Cowell formed the British boy band, One Direction, each of the group's five members has grown tremendously.  With each member now out of their teens, One Direction's maturity has become evident, especially in their latest album, "Four."
From not collaborating on any songs on their first album, "Up All Night," to collaborating on all but two in "Four," Louis Tomlinson, Zayn Malik, Liam Payne, Niall Horan, and Harry Styles have shown development in their songwriting skills.  The album allows listeners to feel like they are experiencing the feelings of band members, rather than the feelings of the credited but unknown writers.
"Four" consists of fewer upbeat songs and more personal, retrospective songs.  A few of the songs sound like they have been influenced by 1980's music, including their first single, "Steal My Girl."  This song is one of the upbeat tracks, and it has an orchestral, feel-good vibe to it.
Ed Sheeran, a fellow British singer and friend of the band, had written the hit "Little Things" and also "Moments" for the group in their previous albums, and continued the tradition by penning the song "18" for them, on a ballad about two people loving each other since they were 18.
When asked how he liked the song he wrote for the band, Sheeran says he is very pleased with it.
"I'm really happy with the record I wrote for them…It's the first record I've actually specifically written for them," Sheeran said in an interview with capitalfm.com.
"Fireproof" is a song that Payne and Tomlinson wrote, with the help of Julian Bunetta, John Ryan and Jamie Scott.  This song will get fans' feet tapping to the continuous drum beat and catchy chorus.  The melodies and harmonies they incorporated into this song are well done, as are the lyrics.
"Girl Almighty" and "No Control" are energetic, fast songs, in contrast to "Fool's Gold" and the popular "Night Changes," both soft, slow tracks, which creates a more complex, exciting listening experience.
As far as the typical emotional, sing-along song that all of One Direction's albums have, "Where Do Broken Hearts Go" is quickly claiming that spot.  "Stockholm Syndrome" and "Illusion" (the latter from the Deluxe version of "Four") both effectively incorporate quick transitions from high to low notes alternating every syllable.
Also from the Deluxe album, "Act My Age" is a cheery, light-hearted track about enduring love.
The opening strains of the new song "Ready to Run" are surprisingly similar to their wildly popular hit single "Story of My Life" from their previous album, but other than that, the boy band has varied their music well.  Because this is the only noticeable similarity, and the two songs take totally different melodies once the lyrics begin, it is not that bothersome.
"Four," while it isn't completely original, still displays the individual talents of the five singers complementing and collaborating with each other to make fitting harmonies and meaningful lyrics.