Fremd math team competes online in Interstellar
Arim Lee, Staff Writer
November 25, 2014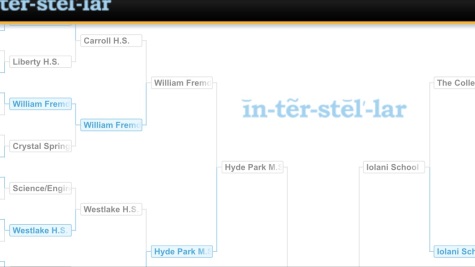 The Fremd math team participated in an online math competition called Interstellar on Oct. 15 and placed in the "Elite Eight" after losing their final match on Nov. 19.  During this time period, an average of 11-15 members participated in this event each Wednesday for 30 minutes.
Interstellar is a live, team-based, online math competition that has a high school and middle school event every year since it was launched in 2012. American Mathematics Competitions (AMC) and Interstellar has worked together to create the online contest "Math Madness," based on college basketball's March Madness. Teams nationwide take part in this tournament to improve their skill levels and progress through competing against a variety of students.
Junior Nathan Narasimhan believes that Interstellar builds the critical thinking skills that students need for the future.
"Interstellar is a great way to strengthen your overall score and to just become better in math in general," Narasimhan said. "They give you difficult critical thinking math problems that aren't necessarily hard to do computation-wise but thinking the problems through could be harder which is what you need to strengthen."
Each team needs a minimum of five students, each competing on his or her own computer. The matches are scheduled at any preferred time and day but if competing teams' times coincide with one another, they can play live with score updates in real time.
Math team sponsor Christopher Grattoni enjoys the developed program because of its unique feature of live playing and being different from regular competitions.
"It's a really cool interface if you play your match the same time as the team you're playing against, since the students will be paired up based on ability and they'll see their score changing in relation to the person they are playing against," Grattoni said. "Interstellar is different from the other leagues we participate in since it can be on anything starting from junior high to what they're learning now. The students can't prepare a specific topic, they just have to have a broad based math knowledge and problem solving ability."
The official high school event began the week of Sept.28 and will conclude with a championship match in early December. The competition is set up in brackets and each team decides when to start a round. Every round is timed and the points are calculated by averaging the top five students' scores of each team.
Sophomore Lauren Cardoza appreciates the online competition for its broad selection of high schools that participate.
"It's really fun because it's different from regular math competitions where you compete online against schools nationwide," Cardoza said. "It's interesting to compare our results as Fremd High School against other schools across the nation."
The math team will continue to participate in the North Suburban Math League (NSML) throughout the year and keep preparing their math skills for the next Interstellar league next year.