#PSAT becomes Twitter trend within hours of testing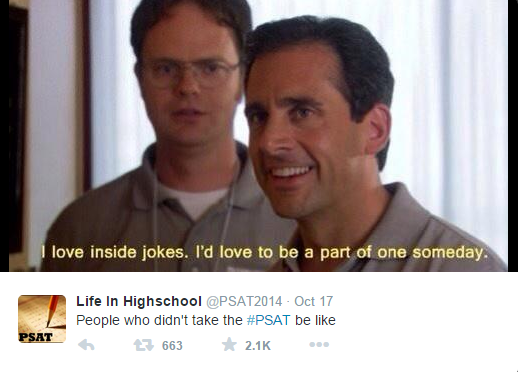 Daniel Classon, Staff Writer
October 29, 2014
The Preliminary SAT, or PSAT, gained notoriety on Twitter when over 800,000 tweets bearing the hashtag #PSAT swamped feeds with inside jokes about the tests. Some tweets commented on the content of the questions themselves, while others combined phrases such as "simultaneously at the same time" with popular memes. Just hours earlier, millions of sophomores and juniors took the PSAT during the school day; every one of them signed a statement promising they wouldn't disclose test questions over the internet.
Junior William Wang took the PSAT on Wednesday and witnessed the Twitter trend unfold online. In the past, the National Merit Scholarship Corporation, or NMSC, treated individuals sharing vulgar tweets or tweets that discussed test answers with the same gravity of an individual found cheating on test day—typically, they were disqualified hours or days after the test. With the sheer magnitude of tweets this year, the NMSC's failure to address the potential disqualifications of thousands of participants is scaring expectant students.
Wang sees the silence as a sign that the NMSC won't take action on Twitter users.
"I thought most of the tweets were for comedic purposes. Very few people were directly talking about the questions," Wang said.
The sophomores take the PSAT as practice for the following year when, as juniors, they have a chance to win automatic scholarships from the NMSC and prospective universities. 99.5% of juniors around the country fall out of the competition due to the PSAT's well-known selectivity—the merit-based test qualifies just "the top half of the one per cent," according to their website.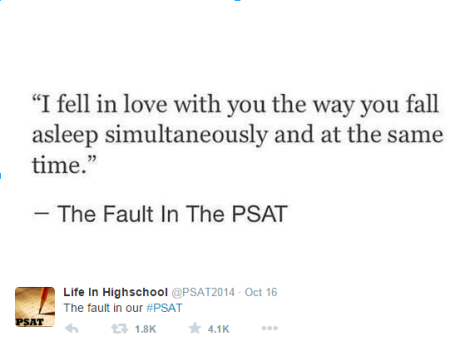 The PSAT gives students a chance to win $2500, but juniors who tweeted about the PSAT in 2014 will have to wait until 2016 to see if the NMSC takes action.