No shortage of odd products on Trader Joe's shelves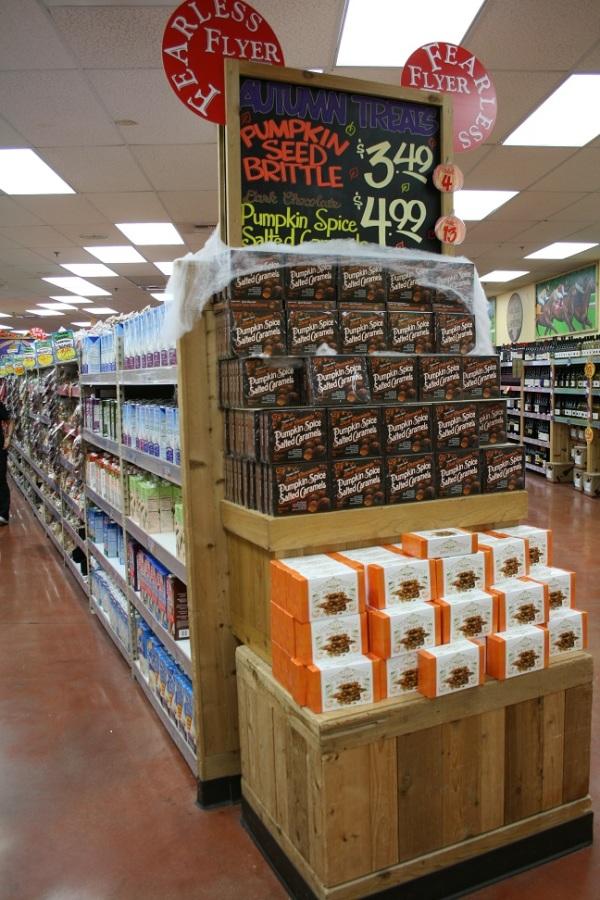 Andy Ruan, Contributing Writer
October 29, 2014
Whether it's the great prices, or the Hawaiian-themed shirts, or the old-fashioned aesthetics, many aspects of Trader Joe's distinctly set it apart from other stores. The store maintains many traits that continue to attract its loyal customers, but above all, Trader Joe's most significant quality lies in its interesting and odd products.
Store captain Jennifer Field of the local Arlington Heights branch knows which items are the best sellers.
"Our cookie butter has gotten so popular we've had to limit our stock," Field said.  "Other than that, our triple ginger snap cookies are pretty popular as well."
Trader Joe's offers a medley of items that are vastly different from items of a typical store.  Walking down the aisle at Trader Joe's one might find anything from whole packaged figs to hearts of palm. Other items include pumpkin seed brittle, pear cinnamon cider and lentil soup with ancient grains.  Their chip flavors alone constitute some of the most varied flavors out there, including jack fruit, kale and even with South African styled seasoning.
Freshman Eli Kluiszo is a regular at the store.
"It is always great, walking through Trader Joe's," Kluiszo said. "I specifically remember being surprised by their fake vegetarian chicken."
When it comes to strange names, Trader Joe's is not lacking.  The supermarket doesn't hesitate to give their products some of the quirkiest titles on shelves.  Many are completely different what the item actually is.  Examples include "Joe Joes," which are chocolate cookie sandwiches, and "Cowgirl Bark", which is a combination of white chocolate, crisp rice, ginger cookie, and pretzel.
Another unique feature of Trader Joe's is their goal to provide foods from all cultures around the world.  Frozen pizzas and pastas may very well lie right next to Chinese shumai and Indian palak paneer.  As an interesting twist on having this diverse produce, the store changes its own brand name to fit the country.  For example, tortillas and taco shells are named under Trader José and orange chicken under Trader Ming.
Field explains the philosophy behind such an interesting selection of stock.
"We want you to feel like you're having an adventure when you shop in our store."