"Shrek: The Musical" puts beloved story on stage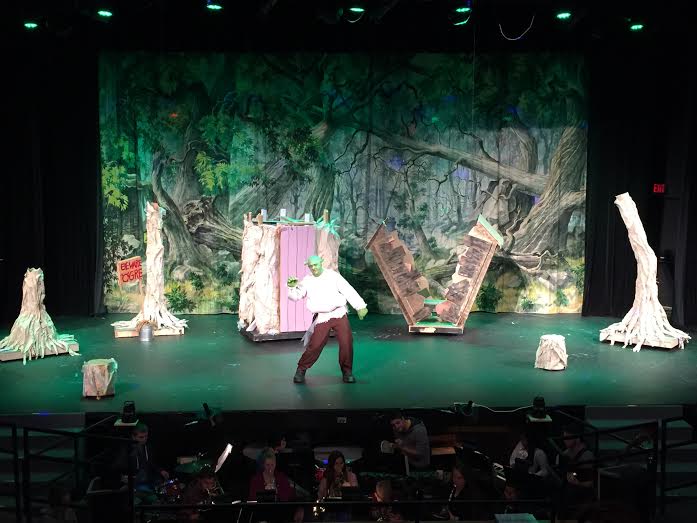 This upcoming weekend and next, Fremd will be performing "Shrek: The Musical." The tickets are on sale now for nine dollars. The musical follows an ogre named Shrek whose solitary life is suddenly interrupted by different trademark fairy tale characters being forced onto his land.
The production is a spin-off of the Dreamworks movie that premiered in 2001, starring Mike Myers as Shrek, alongside Cameron Diaz as Fiona and Eddie Murphy as Donkey.
Musical director Judy Klingner knows that translating a famous movie on stage is a risk.
"There are some parts of a movie that are beloved that if you don't include, the audience will be angry at me," Klingner said.
The original musical was on Broadway from 2008-2010. It was nominated for eight Tony Awards and won one for Best Costume Design.
Klinger states they chose the actors to play a specific part by using the "trickle down effect."
"We might have them sing the same song or a different character's song. We might ask them to sing in a quartet with other people to see if they can hold their part and be a part of the chorus. We have them dance and it falls into place."
The rehearsal process is an enjoyable experience for the Fremd cast. Senior Kyle Price who plays Donkey, says that the cast members found themselves having a good time with the costumes.
"When we first saw the costumes, people were coming out and the whole cast started laughing."
Will Helgren, who plays Shrek, enjoys the rehearsal because it is involves many hours of hard work that is ultimately rewarding.
"I love the rehearsal process because it is a lot of work but the payoff is awesome."
Klingner says that the costumes are an integral part of the show.
"Every show there is something new because every show has different demands. We have Gingy who is a gingerbread man, all the fairy tale characters who have come to life, we have a donkey who has to sing and act but has hooves instead of hands. We have lots of complicated special effects."
The makeup, sets, and costumes are essential to the story. Will Helgren says his costume includes a thick shirt with gigantic boots, huge green latex hands, and a latex hood that goes around his neck and head.
Dirkes- Jacks says that she has made connections with her cast mates, which has proven vital to her performance.
"I have been working with Kyle and Will a lot since the beginning of rehearsals and they are a blast to work with. They are extremely dedicated and talented. I really enjoy working with everyone because so much of theater is about the connections you make off stage."
Klingner says that she hopes the audience will have a good time at the show and that they will be impressed by the students ability to act, sing and dance.
"It's high energy, it's funny and the students are really talented. I think people will be entertained."
The musical will hold performances on Thursday Oct. 30 at 7 p.m., Saturday Nov. 1 at 2 p.m. and 7 p.m., Thursday Nov. 6 at 7 p.m., and Friday Nov. 7, at 7 p.m., with tickets on sale now.