Quick and clever DIY Halloween costumes
Lauren Streitmatter, Contributing Writer
October 29, 2014
Ladybug

Red shirt
Black pants
Black headband
Black shoes
Black and red construction paper
Glue/tape
Scissors
2 black pipe cleaners
Thin cardboard square you can cut into wings
4 safety pins
Cut out 10-20 medium-sized circles of black construction paper and tape them all over your red shirt.
For the antennae, tape the pipe cleaners to your black headband and ball up two pieces of construction paper to form the top of the antennae.  Tape one balled up piece of paper to each of the tops of the pipe cleaners.
For the wings, cut out symmetrical wing-shaped pieces of cardboard and cover it with red construction paper.  Then, cut out a few more black circles and tape or glue these to the cardboard wings.  Attach the wings to the shirt with a safety pin at the top and bottom of each wing.
Cereal Killer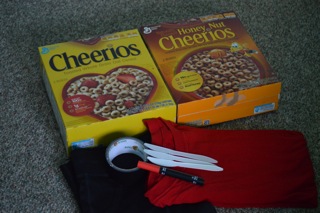 2 empty boxes of cereal
Multiple plastic knives
Red marker
Duct tape
Red shirt
Duct tape the cereal box to the front and back of the red shirt.
Stick plastic knives into different spots on both boxes.
Use the marker to color "blood stains" in on the box around the knives.
Queen (or King) of Hearts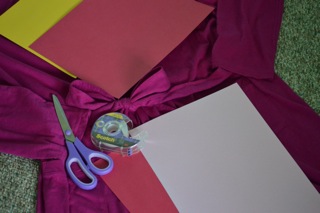 Pink and red construction paper cut into hearts
Bath robe
Yellow and red construction paper
Tape
Tape the pink and red hearts (as many as you want) onto your robe.
Measure the yellow construction paper to fit around your head, and cut it out in the shape of a crown.
Cut out little circles of red construction paper to represent jewels on the crown.  Tape those "jewels" to the crown after taping the ends of the crown together.
Quarterback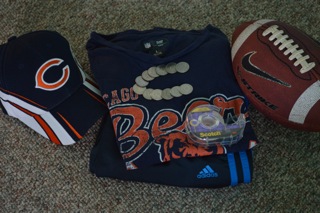 Quarters
Tape
Shirt with the name of a football team (not a jersey)
Football cap matching the team on your shirt
Football
Athletic pants
Tape multiple quarters, as many as you want, to the back of your shirt.
Wear the football cap and athletic pants, and any other football attire that you own and would look good with it, like gloves or cleats.
Carry a football.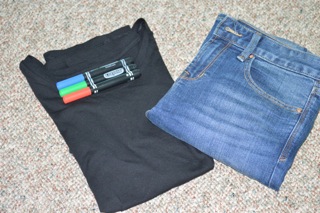 Identity Theft
Name tags
Markers
Plain shirt and jeans
Write as many names as you can think of onto all the nametags.
Stick these onto your shirt.